American Family Insurance Real Estate Assessment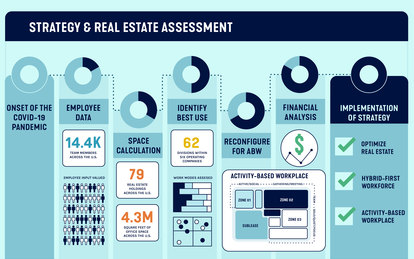 Workplace strategy and data modeling come together to reimagine the future of work for this leading insurance company. The pandemic became a catalyst for change as the firm embraces a hybrid work model across its many locations.  
Client
American Family Insurance
Location
Madison, Wisconsin
Markets/Services
Workplace, Workplace Strategy, Corporate Headquarters & Campuses, Corporate Interiors, Corporate Office Buildings
Driven by the disruption of the COVID-19 pandemic, American Family Insurance invested in a comprehensive assessment of its 79 work locations and the effect of its 14,000 employees working remotely during the pandemic. The company intended to use the information to reimagine its post-pandemic workplace and develop a new workplace strategy that would take American Family successfully through the 21st century.
Working closely with American Family and its six operating companies, SmithGroup worked with leadership to understand strategic business goals and conducted surveys and interviews in partnership with the human resources team to learn feasibility of remote work adoption and nuances of varying work modes. With a wealth of information gathered from stakeholder engagement and quantitative data from HR, SmithGroup created a custom data model to examine potential scenarios based on any number of criteria—such as preferred work location and work modes — unique to each operating company, division and location.  
Providing a fine grain analysis, the data model tool allowed analysis of a large real estate portfolio based on the approved strategy of hybrid work and activity-based workplace as solution to move forward with.    A customized program calculator was built to model space requirements for the adoption of an activity-based workplace and informed how to delineate program locations and space needs, allowing the company to optimize its real estate portfolio and strategy, reduce operating costs, and better serve its employee base most effectively.  
As a result, American Family established an exciting new workplace model, transitioning to a hybrid-first workforce that promotes flexibility and choice, works to support, and retain existing employees, enables nationwide recruiting of top talent that helps achieve key business and diversity goals and will serve the company well into the future.