Arup - Downtown Los Angeles Headquarters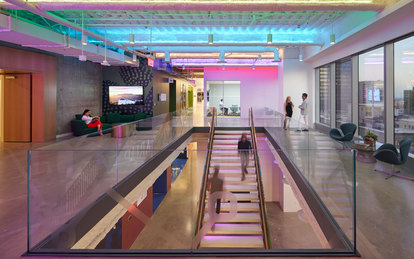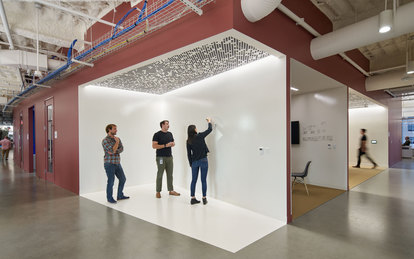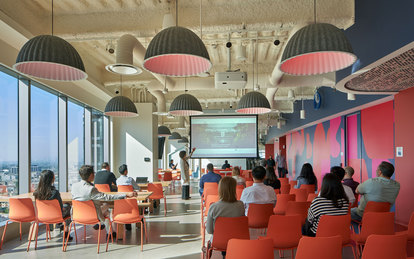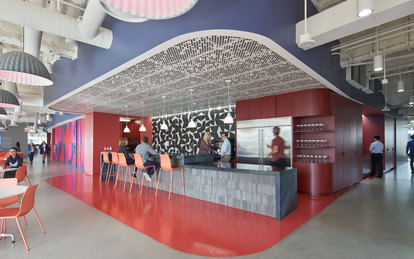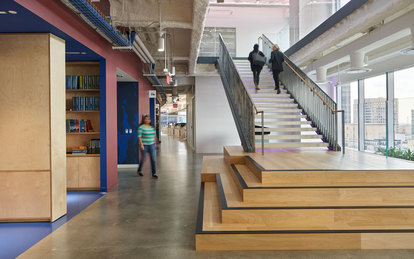 When the British multinational firm Arup Group Limited moved its Los Angeles offices downtown, it went big: Taking over three floors of the tallest building west of the Mississippi and partnering with SmithGroup to create a technologically advanced show-and-tell of the firm's services.
Location
Los Angeles, California
Markets/Services
Architecture, Corporate Interiors, Interiors, Programming, Workplace
Size
66,000 GSF
Global professional services firm Arup has made its mark on the built environment throughout the world. It made news with its own Southern California workplace in 2018, when it relocated from the beach community of Playa Vista to downtown L.A. in one of the city's largest commercial relocations of the year. The move was planned to bring Arup closer to its business clientele, accommodate its expanding staff and services, and, with a major transit hub across the street, offer better transportation options for its employees.
Executing a new workplace of this size and scale became a highly collaborative effort, with Arup leadership and staff deeply engaged with SmithGroup in the visioning and decision-making process. The goals and objectives became clear: along with creating a working environment large enough to accommodate expansion, the new workplace should inspire Arup's clients, peers and employees, invigorating the Arup brand in America.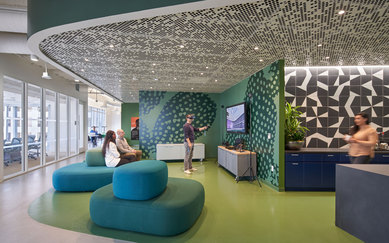 The resulting space is a portfolio of Arup's expertise, intentionally showcasing its acoustic, lighting, structural engineering and other services. Organized around a central open stair, the three-story workplace promotes creativity, inclusivity and wellness. It features an award-winning circadian lighting system, a light shelf, bold use of color, and graphics evocative of nature and technology. A highlight is Arup's first SoundLab/ExperienceLab, an immersive audio and visual VR laboratory for simulating built environments. Reflecting the firm's commitment to sustainability, the project complies with LEED Platinum V4 standards.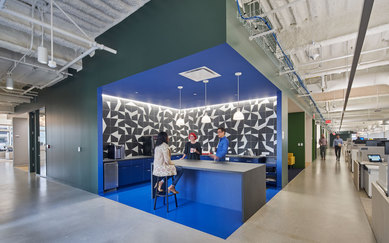 The main arrival area is on the middle level, the heart of the complex and home to the main conferencing center, technical BIM rooms for collaboration and modeling, and the acoustically isolated SoundLab/ExperienceLab. Huddle rooms and niche work areas occupy the center of the floor plate near the stair, which provides informal seating and encourages spontaneous interaction. A comprehensive maker space and library occupy much of the lower level. The top level is devoted to a large and lively café area, with AV equipment and amenities for hosting community and industry events in the heart of L.A.'s commercial district.