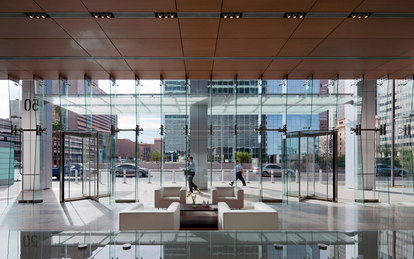 We believe in the power of density and responsive design. Phoenix is a city that hasn't had much of either. Our client and its outdated office space was a product of these deficiencies. Implementing a design born from our values as city and place-makers, we not only gave our client a vastly improved office space but gave the city a new design direction to aspire towards.
Client
Mesirow Financial, Development Manager
Location
Phoenix, Arizona
Markets/Services
Commercial Office Buildings, Mixed-Use, Workplace
Size
800,000 GSF, 475,000 RSF
Featured Awards
Award of Merit, Valley Forward Environmental Excellence Awards, Buildings & Structures, Commercial & Mixed Use Category, 2010 Citation Award, AIA Western Mountain Region, 
Un-built Award -- Freeport-McMoRan Center, 2007
Illuminating Engineering Society (IES), Award of Merit, 2010
Honoree - AZRE| Arizona Commercial Real Estate Magazine, 2010
Phoenix, one of the country's most populous cities, has never been a traditional metropolis. A sprawling and vast desert city, its downtown has not embodied the central hub that so many other cities boast. As a result, many residents and companies live and set up shop in the outskirts. But the city is undergoing a metamorphosis. 
With lower costs of living and beautiful weather, people are beginning to realize the potential of downtown Phoenix. A building boom has ensued.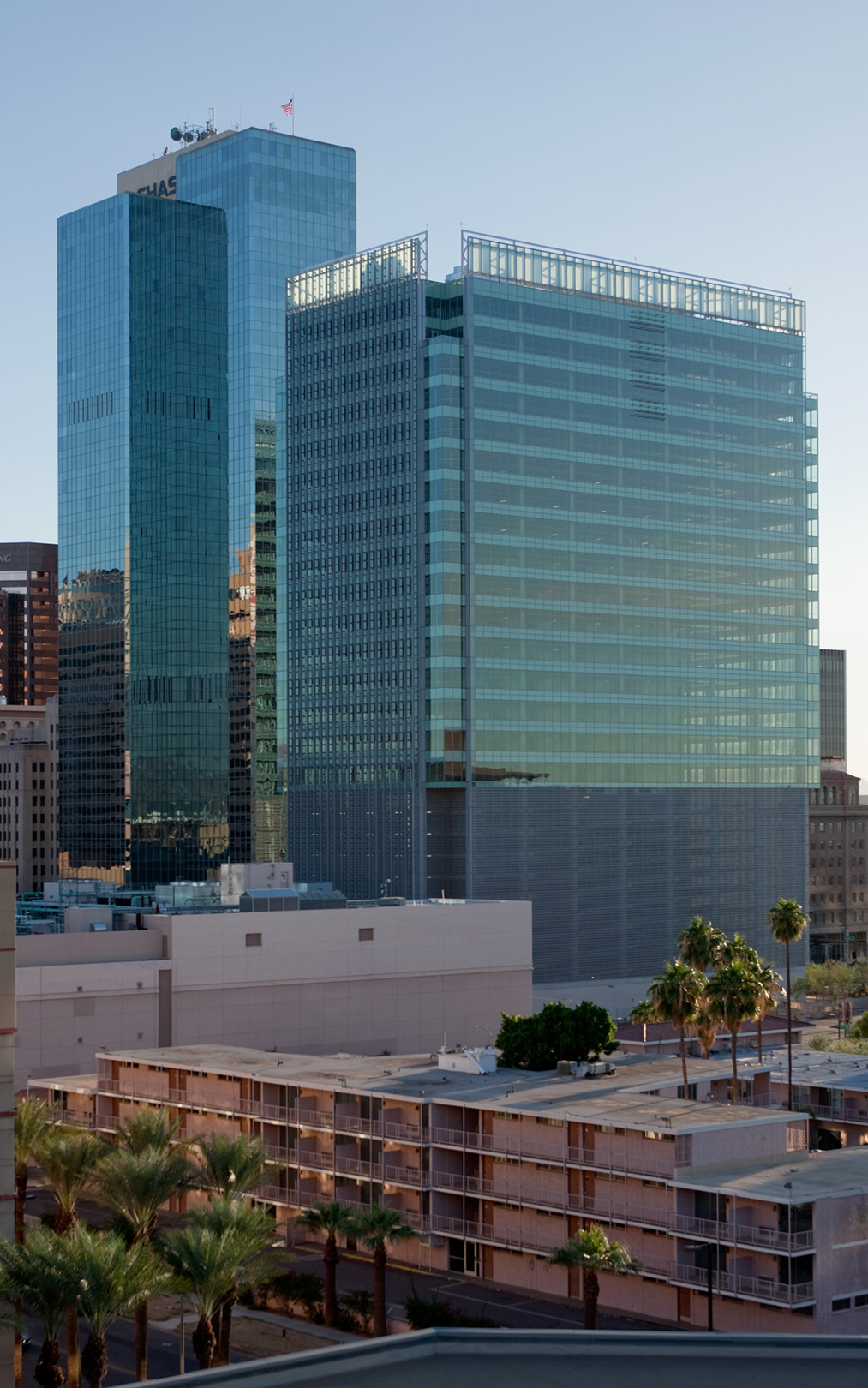 Of these buildings is the new Freeport-McMoRan Center, the first high-rise in downtown Phoenix in over a decade. Not just new, but novel. Our design of the Center brings contextual design to the city, standing in stark contrast with the ruddy desert brown buildings that surround. We knew that designing for a desert city didn't mean that the building needed to blend into the landscape — it merely needed to respond to it.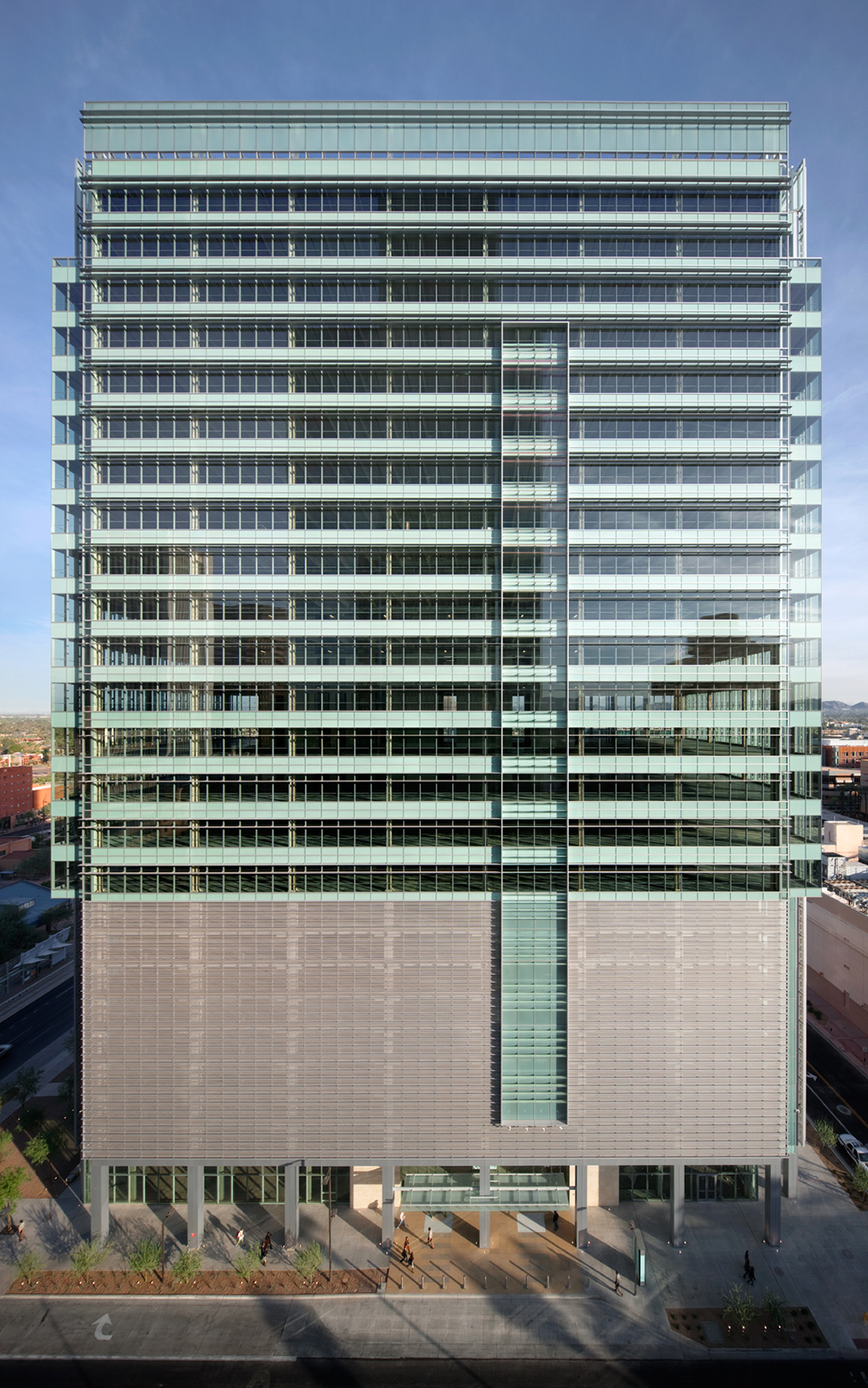 The new Freeport McMoRan Center utilizes sophisticated sustainable strategies that enable the use of glass and steel, rather than concrete, and offer panoramic views of the city, the mountain ranges, and the desert. Sun shades are affixed to each window, made specifically for that facade to ensure those inside are always kept cool.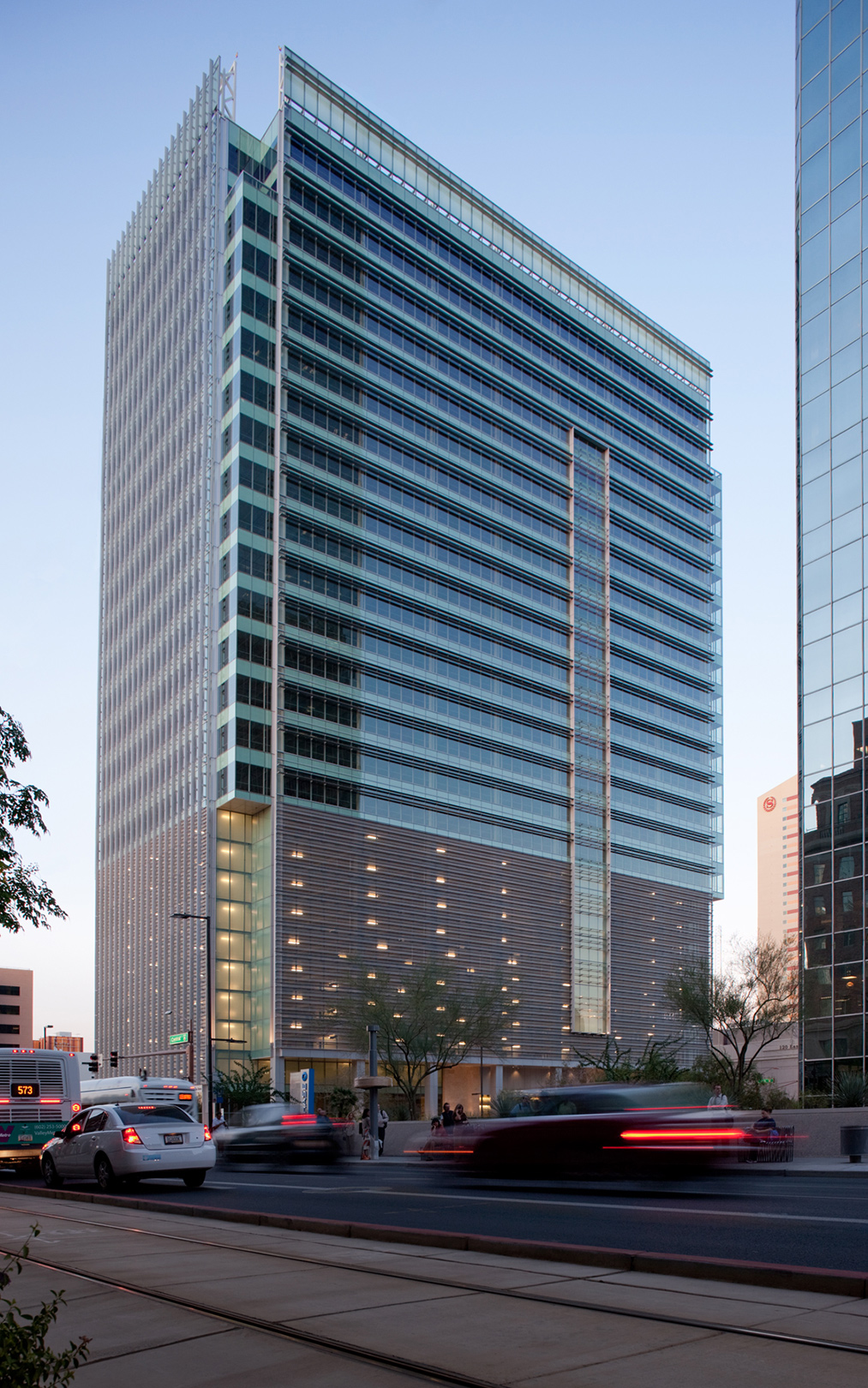 Above-grade parking also exists beneath the office floors, but it is by no means a traditional parking lot, as it too has panoramic views, air flow, and natural light made possible by a perforated standing seam metal roof panel.
The unconventional Freeport McMoRan Center heralds a shift in desert architecture. Reflecting other city buildings by day, glowing and transparent like a lantern by night, the new Center redefines responsive design, and signals the beginning of Phoenix's new urbanist mindset.