Porter Drive Redevelopment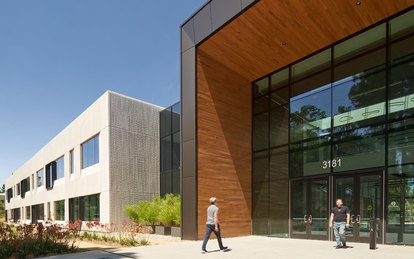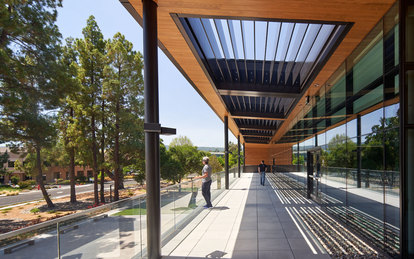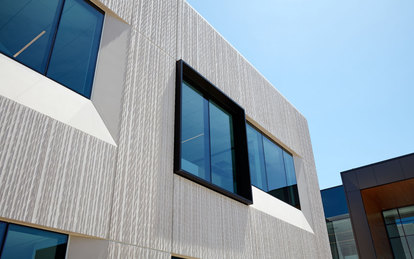 We always work to solve our clients' problems. Sometimes, clients are very specific about how an issue should be resolved. In this case, Stanford wanted a new building, but didn't want to disrupt any trees on the site. We found a way to rise to this challenge while implementing a solution that drastically enhanced the design.
Client
Stanford University
Location
Palo Alto, California
Markets/Services
Architecture, Commercial Office Buildings, Corporate Office Buildings, Interiors, Landscape Architecture, Workplace
Size
101,083 SF
There are many things that make Stanford University world renowned. Its students. Its research. Its ranking as a top university. Less expected is its devotion to the trees which blanket its campus. When Stanford Development decided to build a spec office to attract the kind of innovators and industry leaders it often partners with, preserving trees was a top priority.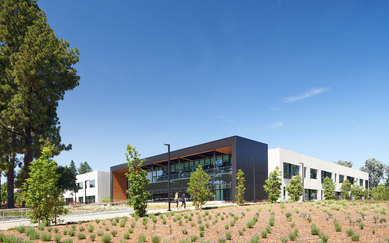 The campus is known for its bucolic qualities, a sort of utopia that meshes the finest of both worlds: academics and scenery. Covered in oak groves and pines, our team had no difficulty understanding the university's unwillingness to disrupt its trees. We simply designed around them. 
The overall site strategy started as an attempt to preserve as many trees as possible and quickly morphed into the basis for the design concept. Trees would not only remain untouched; they would become the thesis of the design, visible through all parts of the building.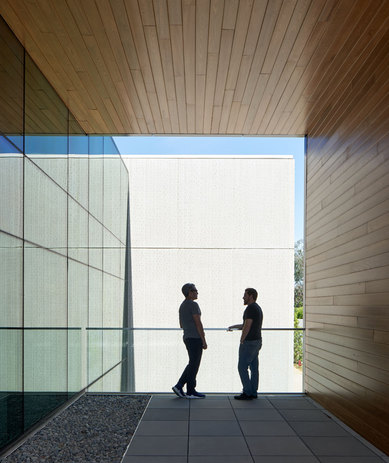 The design combines technical manufacturing with handmade intervention, taking glass fiber reinforced concrete, and working with a subcontractor to individually modify each panel so an organic and wood-like texture results. When completed, 3181 Porter Drive will be distinguishable from the surrounding landscape – but only slightly.