Georgia Southern Engineering and Research Building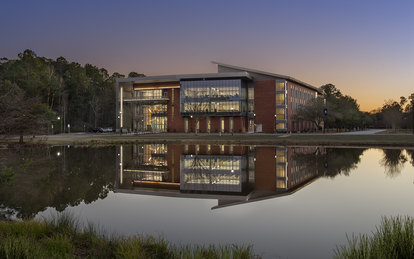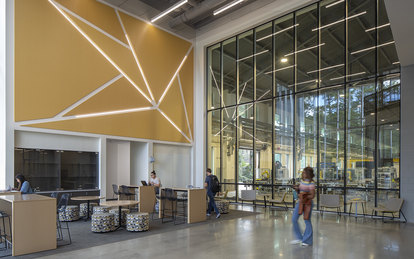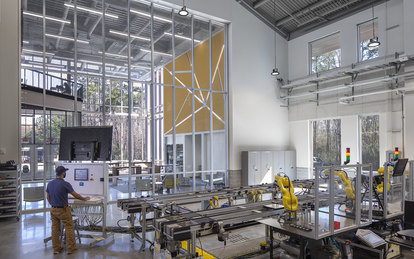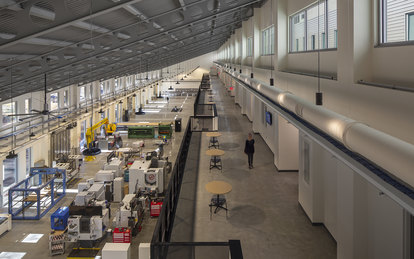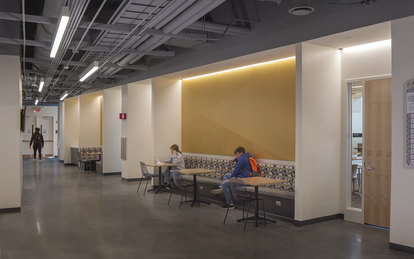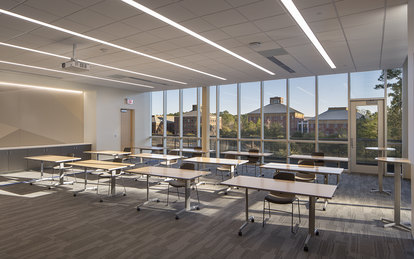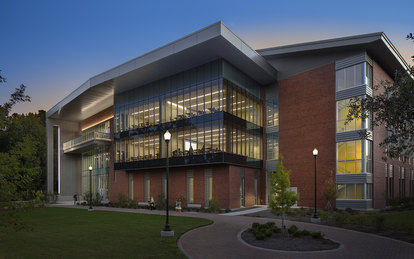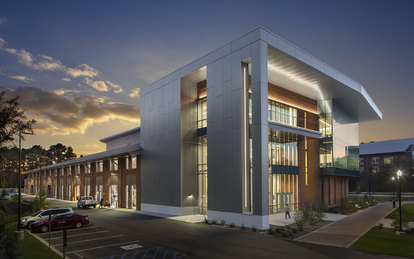 A locus for engineering excellence and innovation in Southeast Georgia, the Engineering and Research Building is designed for practical learning and applied research, instrumental in producing the next generation of highly trained engineers and fostering strategic industry partnerships.
Client
Georgia Southern University
Location
Statesboro, Georgia
Markets/Services
Higher Education, Academic Research, Lab Planning, STEM (Science, Technology, Engineering, Math), Science & Technology
Size
138,000 SF
When Georgia Southern University planned a new facility to consolidate its engineering programs, it knew that hands-on learning with real-world technologies would be key in preparing its students for 21st-century engineering professions. It also sought to strengthen relationships with regional industry partners in southeast Georgia's manufacturing and engineering sectors. 
The Engineering and Research Building has quickly established itself as a hub of engineering excellence and innovation in southeast Georgia. Home to research spaces for the University's four engineering disciplines—manufacturing, civil, electrical/computer and mechanical—its sophisticated specialty laboratories and high bay manufacturing facilities allow students to develop high-level skills on machinery used by leading industries today. Its applied research capabilities are highly attractive to the area's manufacturing and engineering firms, building partnerships that enhance student career opportunities, inspire creative engineering solutions and contribute to the economic success of the region.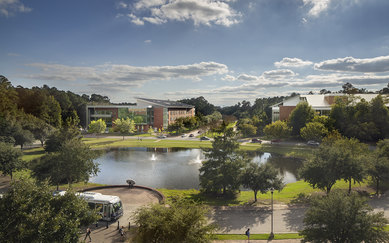 The heart of the building is a 350-foot-long, two-story high bay space. Laboratory zones provide advanced-level opportunities for students to work with highly specialized equipment in the fields of robotics and automated manufacturing, nano materials manufacturing, industrial instrumentation and controls, materials science and several other specialties. The various manufacturing processes demanded well-choreographed programming and layout relationships, as well as significant structural requirements for combustion and explosion protection in the Additive Manufacturing Laboratory, where metal precision parts are 3D printed. A portion of the bay is set aside specifically for academic and private industry collaboration. With modular design and robust infrastructure, the high bay zones can easily adapt to changing technologies and user needs.  
The high bay is the first thing visitors see when entering the building, visible through full height glazing at the main entry that houses a student collaboration space. This impactful entry also serves as the beginning of building tours that are frequently given to industry guests and potential students and faculty. Three levels of academic learning spaces and instructional research labs, including one of southeast Georgia's only ISO Class 7 cleanrooms, run parallel to the high bay space in the building. Substantial glazing throughout the building and numerous observation areas overlooking the high bay showcase the advanced equipment and the hands-on, real-world learning that exemplifies the Georgia Southern's engineering programs. The roof houses a solar and wind environmental lab for experimentation with energy generation.