Hanzhong Xinghan Hospital Design Competition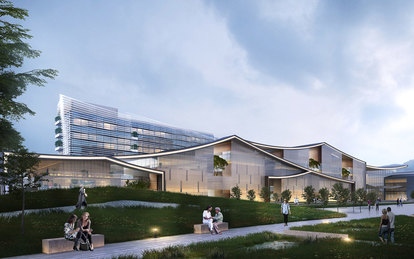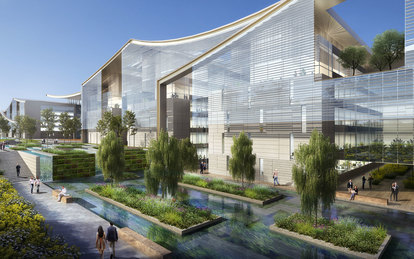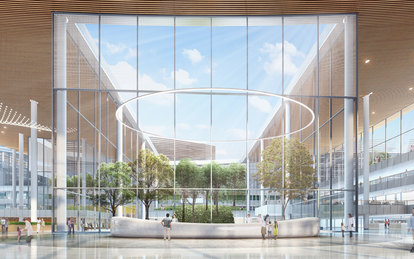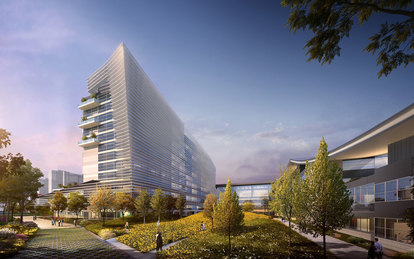 Hanzhong Xinghan Hospital is a world-class healthcare facility that takes inspiration from the dramatic river valley landscape to heal its patients and to honor its cultural heritage.
Client
Hanzhong Xinghan Medical Industry Development
Location
Hanzhong, China
Markets/Services
Academic Medicine, Ambulatory Care, Architecture, Health & Wellness, Health, Landscape Architecture, Medical Planning, Programming
Size
4,126,141 GSF / 383,331 GSM
Located along the Hanshui river in central China, the historic city of Hanzhong of 4.2 million inhabitants has experienced rapid growth over the past two decades. This unprecedented urban growth has led to the need for a state-of-the-art advanced medical center in the region. With an ambitious vision to create a world-leading 1200-bed facility that would bring world-class care and specialty medicine to Hanzhong, our client, a local investment group, developed the program for this facility.
To realize this vision, the design team faced two key challenges: firstly, creating architecture language that will help the new facility integrate into the cityscape of a very formal and planned urban center that is Hanzhong. Secondly, honoring the ecological stability by carefully designing and building in a mountain landscape and avoiding any damage to the region's aquifer.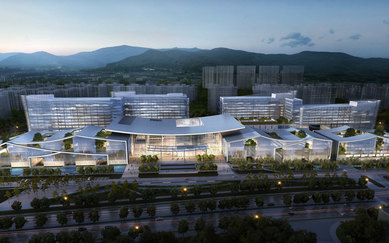 Our team developed three key guiding principles for the Hanzhong Xinghan Hospital—care, tradition, and technology. Providing top rated care by healing mind, body and spirit; incorporating traditions through Chinese medical protocols; and utilizing latest technology to bring the most updated medical advances to serve the people. 
These guiding principles influenced the architecture design of the hospital to create a unique patient healing journey. The design of the landscape and the buildings was informed by the Hanzhong River basin. A tripartite massing begins closest to the river, where a horizontal pavilion with a curvilinear roofline welcomes patients with access to outpatient care and community services.
The bed towers on the north side evoke the majestic Qinling mountains by creating protective and healing spaces for all major medical services, including surgery, ICU, critical care, and will be the patient's last stop on their healing journey.
Architecture features such as the inverted curved roofline of the river pavilion and ample green courtyards bring in abundant natural light, which helps with the healing of patients and pays tribute to the ancient Han architecture.  
Hanzhong is a case study for a modern hospital that successfully responds to its unique historical and ecological context while successfully achieving its bold goal to be the "Gateway to Good Health."