Indiana University Cyberinfrastructure Building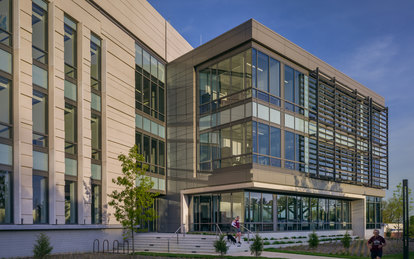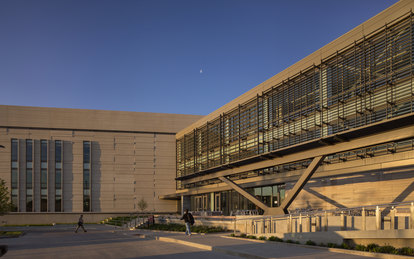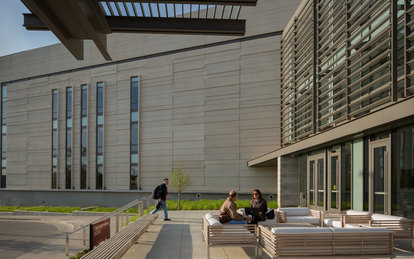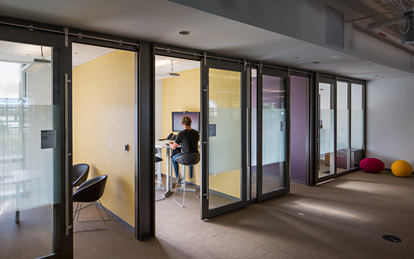 Two buildings on the periphery of Indiana University's Bloomington campus (IU) form the information technology epicenter of the University, one an office building to serve the University Information Technology Services and the other a fortified enterprise and research data center designed to withstand the severe weather and tornadoes common to central Indiana. The success of the two projects solidified the relationship with Indiana University, elevating SmithGroup to trusted advisor status for design and planning across all of IU's eight campuses for over 15 years.
Client
Indiana University
Location
Bloomington, Indiana
Markets/Services
Data Centers, Higher Education, Mission Critical, Science & Technology
Size
82000 SF
The University Information Technology Services (UITS) was dispersed in outdated facilities across the institution, and the University was determined to consolidate this organization into a single unified center that could more effectively support all of IU's information technology needs. When SmithGroup was hired, a centrally located contextual building compatible with the precedent of Collegiate Gothic and Romanesque buildings on campus was envisioned. But as the programmatic aspirations and infrastructural needs evolved and were clarified, it became apparent that the project scope needed to be redefined as two buildings – a Cyberinfrastructure Building (CIB) and a separate but adjacent Data Center that would be located just off the main campus but still convenient to staff and students. SmithGroup worked closely with the UITS stakeholders and University Architects Office to creatively and innovatively realizer the stringent demands for a technology epicenter.
The Data Center was conceived as a windowless bunker-like structure – highly resistant to weather threats while also being suitable for the high performance supercomputers and research computing housed within the structure. By contrast, the CIB next door was designed as an open, transparent and people-centric office building with abundant access to natural light, a welcoming entry atrium and ample spaces suitable for both planned and spontaneous staff interaction and collaboration.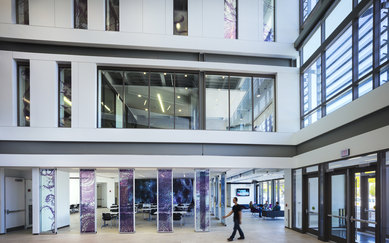 The CIB's basic shape is that of an angled L in plan that is derived from the adjacent intersection of SR 45/46 and 10th Street. Where the two "bars" meet a 3-story void is carved out of the intersection, defining the main entrance and central atrium. The primary building materials include precast concrete and glass with accents of Indiana limestone and louvered metallic screening.  The patterning and configuration of precast concrete is abstractly derived from the precedent of random ashlar Indiana limestone common on the core campus. Large expanses of glass and a system of exterior sunshades and an automated internal shade system regulate heat gain and glare year-round. The building's steel frame is exposed throughout the structure with exposed X-braces featured and celebrated along the primary glass facades.
As part of its resilience to tornadoes and other natural disasters, the data center is partially submerged below grade with an earthen embankment at its perimeter. To bolster the facility's resilience to power supply fluctuations, the building infrastructure is classified as Tier III by the Uptime Institute and relies on redundant cooling and power supply systems to ensure continuous uninterrupted operation. There are three distinct computing bays – one supports the University's primary enterprise computing systems, the second and third bays are dedicated to information technology research and high-performance supercomputing including IU's Big Red II and Karst supercomputers.
Our team's collaborative approach and innovative design ideas for the both buildings led the University partnering with SmithGroup for multiple system wide campus master plans and several new building designs for the Bloomington campus. What began as a vision for a single building in the center of the historic campus evolved into two high-tech centers that further reinforce UITS's reputation as one of the most progressive and innovative university information technology organizations in the country.