Keck Graduate Institute Physician Assistant and Occupational Therapy Programs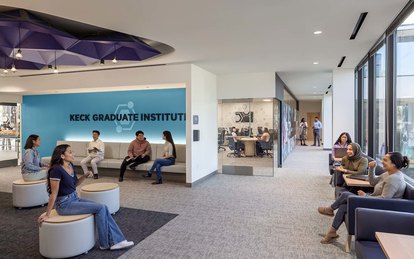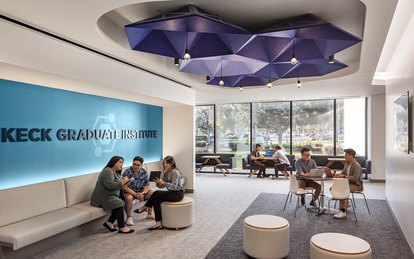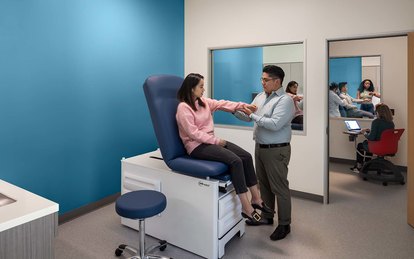 A suite of simulation labs and realistic clinical settings equip the school's new Physician Assistant and Occupational Therapy programs with collaborative, active learning environments.
Client
Keck Graduate Institute
Location
Claremont, California
Markets/Services
Health Sciences, Higher Education, Interiors, Lighting Design, MEP Engineering, Professional Education, Programming
Size
24,500 SF
To keep up with the demand for healthcare practitioners, the first phase of facility renovations at the Keck Graduate Institute (KGI) provides approximately 24,500 square feet of new instructional and administrative areas for its Physician Assistant and Occupational Therapy programs. The renovation incorporates interprofessional education and technology-enabled simulations to prepare students to be integral members of the healthcare team. These active-learning and hands-on environments foster resourceful, ethical and agile problem-solving among students.
One of the seven private Claremont Colleges, KGI was established in 1997 with an emphasis on graduate degree programs in healthcare and the applied life sciences. For its new Physician Assistant and Occupational Therapy programs, KGI wanted to develop instructional spaces where it could educate students in clinical settings. It secured a single-story building that previously housed offices and light manufacturing. Recognizing the shortage of healthcare professionals, KGI completed the renovation in four months in order to obtain accreditation well ahead of the first incoming class.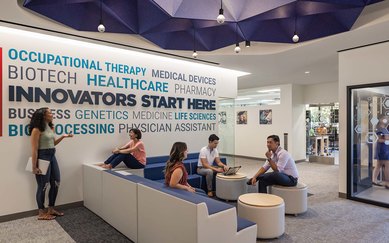 The renovation features realistic clinical environments to prepare students for today's healthcare careers. The majority of the building is devoted to these practice areas for its new programs, which provide students with a valuable understanding of personalized medicine and emerging technologies. The design team also dedicated pleasing spaces infused with natural light for casual study and collaboration, building connection, community and a sense of belonging among students.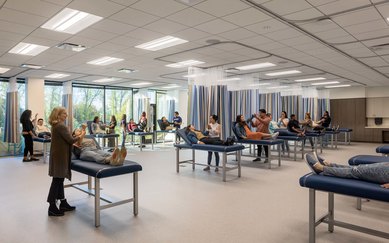 The Standardized Patient Assessment Center includes eight simulated exam rooms, a video observation room and a faculty/student review area. The Patient Assessment Lab houses 25 physical exam tables where students practice clinical skills with live mock patients. The Shared Skills lab, with anatomic models and a 3D virtual anatomy platform, is used to practice suturing, intubation and other interventional skills. 
Near the entrance, an interior glass wall offers views into a classroom used for lectures, discussions and debriefs, which in turn has a view into the Anatomy Lab, infusing the spaces with participative energy. Clerestory windows and linear lighting guide users down the main corridor, where seating areas are interspersed among the labs and classrooms, accented with KGI's signature blue and a hexagonal ceiling treatment evocative of its branding.