Milford Regional Medical Center Meehan Family Pavilion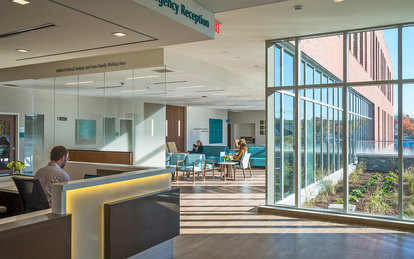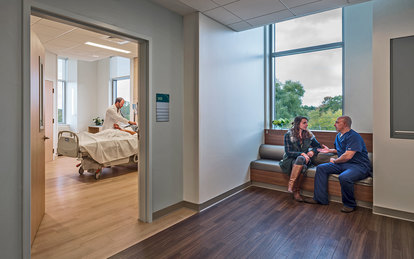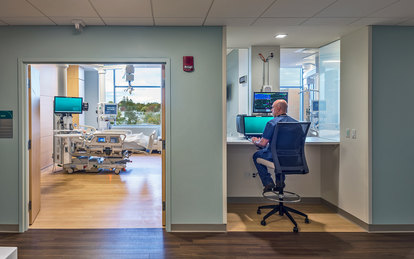 When the Milford Regional Medical Center in Massachusetts needed to update its facilities and expand its capacity for future demand, the medical institution sought a solution that would not only bring the hospital into the 21st century, but one that would reflect the dynamism of the Milford community. A modern addition housing, a new emergency department and intensive care unit were designed in a way that placed dignity and community needs at the forefront while also improving patient care.
Client
Milford Regional Medical Center
Location
Milford. Maine
Markets/Services
Acute Care, Architecture, Emergency Medicine, Health, Interiors, MEP Engineering
Size
88,000 SF
Featured Awards
New England Section Illumination Award, Illuminating Engineering Society (IES), 2016
Healthcare Design Award, International Interior Design Association (IIDA) of New England, 2017
In an era of rapid evolution in the healthcare industry, SmithGroup understood the need to create a facility that is both functional and beautiful—providing a new space that would represent a departure from the institutional feel and design of older medical facilities and hospitals. Not only does the new Milford emergency department and ICU boast the latest cutting-edge technology and services, but the expansion also has a more contemporary aesthetic while integrating into the hospital's beautiful natural surroundings.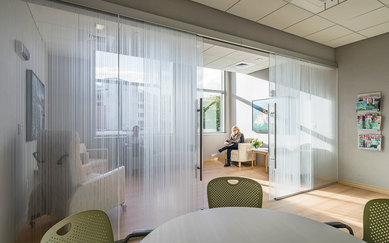 The completed Milford Emergency Department and Intensive Care Unit expansion is not just a medical facility for the future, but it is one that the community can be proud of and feel confident in getting the very best treatment.