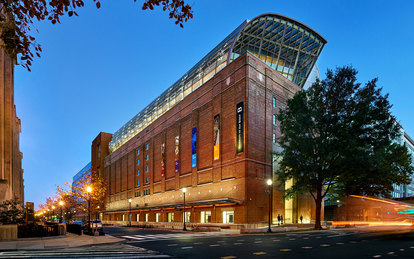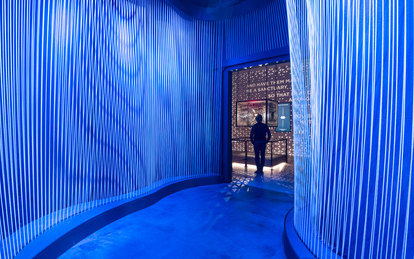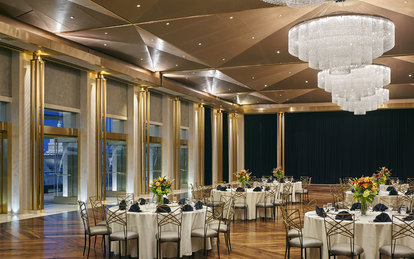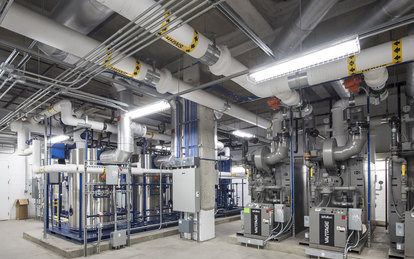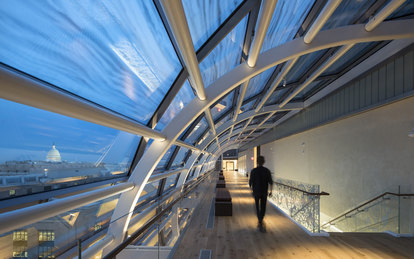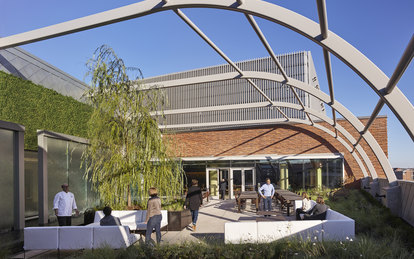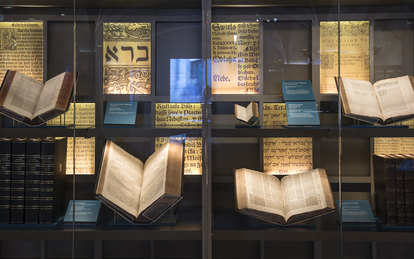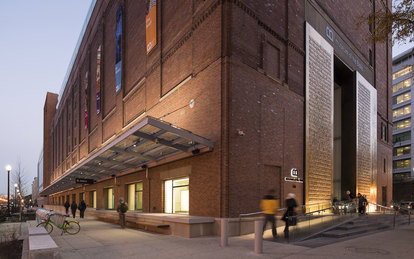 Dedicated to one of the world's oldest texts, the 8-level, 430,000-square-foot new museum is resolutely modern, incorporating striking architectural forms and cutting-edge technologies. An adaptive reuse of an historic 1922 refrigerated warehouse, the museum is the built equivalent of a manuscript that bears traces of several versions of text added and erased over time. Our design reflects a concerted effort to allow for and encourage a multiplicity of views, interpretations, and experiences.
Client
Museum of the Bible
Location
Washington, DC
Markets/Services
Architecture, Building Enclosure Consulting, Cultural, Energy & Environmental Modeling, Fire Protection and Life Safety Engineering, Historic Preservation, Interiors, Lighting Design, MEP Engineering, Museums & Galleries, Performing Arts
Size
430,000 SF
Featured Awards
Excellence in Adaptive Reuse, Trends Awards, ULI Washington Chapter, 2018 
Award of Excellence Institutional Architecture, AIA Northern Virginia Chapter, 2018
 
Award of Excellence, Illuminating Engineering Society (IES), 2018
Award of Merit, Illuminating Engineering Society (IES), Detroit Section, 2018
Award of Merit Best Interiors, Illuminating Engineering Society (IES), Detroit Section, 2018
Museum of the Bible is a newly formed institution dedicated to the history, narrative and impact of the Bible.  The desired a world-class museum that would attract the stream of annual visitors to Washington DC annually. 
SmithGroup reopened the colossal train portal of the original historic warehouse creating not only a dramatic main entrance, but also a long lobby arcade ushering visitors into the museum.  The restored opening is flanked by a pair of monumentally-scaled milled brass panels inspired by typesetting blocks of the Gutenberg printing press. Between is a glass impression of an ancient papyrus illuminated by varying light intensities and distributions to reveal multiple translations of the text.
To achieve desirable floor-to-floor heights for exhibit spaces, every other floor slab was demolished.  A midblock 1980's addition was also demolished to make way for new infill housing the museum's main circulation—an airy, sunlit monumental stair—as well as large-span theater spaces. A striking new two-level glass and steel roof addition projects over the museum's main entry beckoning to visitors.  The curving addition with its visible structural ribs evokes an ancient boat or rolled scroll and contains the 475-seat World Stage Theater and 450-seat ballroom.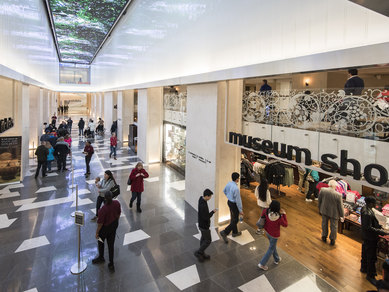 SmithGroup developed a triad of leadership with the exhibit design team and the contractor to deliver the museum in half the time of a typical museum of this scale.  The tightly integrated team sought creative solutions to the challenges that a historic structure inherently presents as well as to the diversity of program desired. 
SmithGroup's integrated project delivery approach made it possible for its energy and environmental engineering and mechanical engineering disciplines to collaborate directly and develop a time saving universal building performance model of the building to perform both HVAC equipment sizing calculations and annual simulation of energy cost savings to achieve energy performance targets for LEED certification.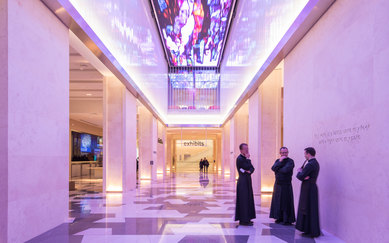 Museum of the Bible represents a new potential model for contemporary museums of all kinds.  It is conceived to be a more ambitious and flexible institution, with a wide breadth of functions.  It is less a singular museum than it is a one-building campus of cultural and academic facilities—including three permanent exhibitions, eight galleries for visiting institutions and temporary exhibitions, 12 theaters, a world-class performing arts venue, conferencing amenities, broadcasting and translation facilities, a biblical garden, a rare manuscript library, ballroom, and spaces for scholarly research. 
The array of event and exhibition spaces, commissioned artwork, state-of-the-art technologies, theaters, interactive experiences, culinary and horticulture areas – plus the sheer breadth of the building on a tight urban site – offers visitors both a place of respite and an opportunity to contemplate, explore, learn, be entertained and connect to biblical culture.