Population Health Management and Health Equity Strategic Master Planning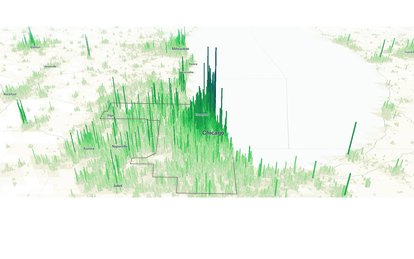 A new data-driven model of care and building strategy prepares one of the country's largest metropolitan areas to position for more equitable and accessible healthcare services and outreach to an underserved area of Chicago.
Location
Chicago, Illinois
Markets/Services
Acute Care, Ambulatory Care, Health, Health Strategy, Medical Planning, Programming, Strategic & Master Plans
The City of Chicago is home to 2.7 million people who are served by 27 hospitals housing 5,092 medical-surgical (med-surg) and 1,089 intensive care (ICU) beds. Adding in the surrounding suburbs, the city and county combined serve 5.2 million people in 48 hospitals, with a total complement of 9,318 med-surg and 1,887 ICU beds (this number does not include children's, behavioral health, or rehabilitation hospitals, or long-term acute care facilities).
Although this is a formidable healthcare delivery infrastructure, the South Side of Chicago and Cook County (south of Interstate 55) has not performed well during 2019-2020 pandemic, nor in many health indicators in general.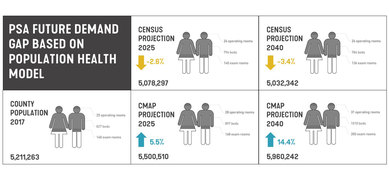 Over the last six years and strategic planning and design commissions for multiple clients, SmithGroup has had the opportunity to analyze five campuses and health delivery systems within this area. Most recently, while establishing functional and operational programs for a new ambulatory facility, our strategy team quickly realized the community's needs far outweighed the proposed services.
Quickly shifting gears to a population health study, SmithGroup strategists assembled a wealth of national, state, county, and city health and demographic data as well as metropolitan planning studies. The team studied environmental and social health factors, prevailing diseases, bed shortages, access to basic health services, and transportation availability into a single integrated model of the health delivery landscape. These vast data points were mapped, analyzed, stress-tested, and correlated using data modeling and visualization tools. A competitive analysis of the hospital site and its neighbors' market share, insurance payer mix, service volumes, and patient demographics helped establish which services, resources, and facilities were missing in the primary service area and which should be considered for investment.
As part of the study, the strategy team contrasted the primary and secondary service area to two other comparable healthcare districts within the region: near and far north. Analyses included primary and specialty care visits; surgical services quantified in hours provided per capita; ICU, med-surg and specialty bed capacities; and utilization per 1,000 population. All data was applied on top of population and patient longevity matrices, generating conclusions on service gaps and the required functional, operational, and spatial solutions.
This analysis revealed that the south area is significantly underserved in comparison to the near and far north. For example, on average, patients in the near and far north areas see a primary care physician or specialist three times per year; on the South Side one in three people see a doctor only once a year. Other healthcare parameters demonstrated similar problems. Lack of health services, grocery stores and pharmacies combined with other social factors contributes to an average life expectancy in the south area of 10 years less than the U.S. average (78.54-years) and 14 to 17 years less than near and far north areas (82 and 85 years).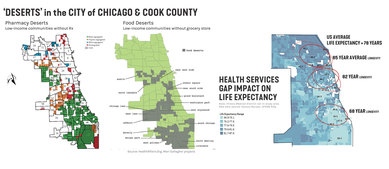 This deep population health analysis was used to inform our final master plan, completed for a confidential client, that offers solutions for bringing much-needed health services to the area in alignment with new and evolving models of care, enriching the lives of Chicago's South Side residents.