As one of the fastest growing cities in the nation, Washington DC is witnessing a dramatic wave of new construction. Tower cranes can be seen throughout the city, constructing buildings to house new residents and create space for growing businesses. The need to bring density and smart planning to underutilized areas is an important key to sustainable growth and continued success of the nation's capital.
Markets/Services
Architecture, Mixed-Use, Residential
Size
359,905 SF
Planned for sites that were previously owned by the city of Washington, DC, the upcoming Square 560 will not only deliver 344 new apartments to the heart of the city, but it will also act as a gateway from Capitol Hill into the residential Northwest Washington Corridor.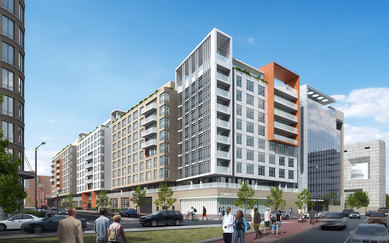 Working together with the city and the neighboring Mount Carmel Baptist Church, the upcoming mixed-use development looks to its community for design inspiration and programming: 20% of the apartments will be affordable and on-site parking for the congregation will also be included.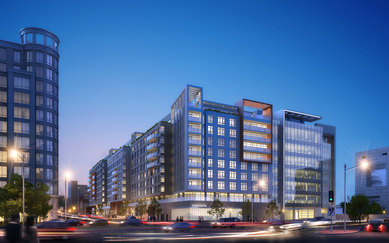 New developments in quickly growing and transforming cities cannot be built as islands in a spanning sea, but rather as intrinsically connected components of a dynamic community. The nine-story Square 560 designed by SmithGroup represents not just a more contemporary design language, but one that speaks to its surroundings through smart design, planning, and programming. It will not only help to push DC's residential aesthetic in a newer direction, but Square 560 will also become a future icon as an important gateway linking prominent DC communities together.