Westin Hotel – Freeport McMoran Center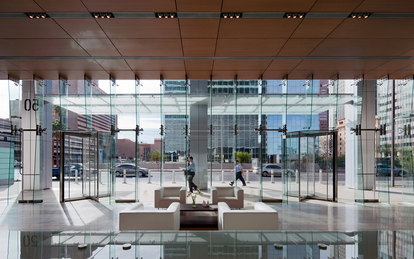 This core-and-shell tower designed by SmithGroup exemplifies design that is responsive to changing market forces. Originally planned for office and residential use, it was able to seamlessly transform to office and a luxury hotel property, also designed by SmithGroup. 
Client
Mesirow Financial, Development Manager
Location
Phoenix, Arizona
Markets/Services
Commercial Office Buildings, Mixed-Use, Workplace, Hospitality & Resort
Size
800,000 GSF, 475,000 RSF
Featured Awards
Award of Merit, Valley Forward Environmental Excellence Awards, Buildings & Structures, Commercial & Mixed Use Category, 2010 Citation Award, AIA Western Mountain Region, 
Un-built Award -- Freeport-McMoRan Center, 2007
Illuminating Engineering Society (IES), Award of Merit, 2010
Honoree - AZRE| Arizona Commercial Real Estate Magazine, 2010
The desert metropolis of Phoenix has always been a bit of an outlier, a city that grew across its broad desert rather than as a dense central hub. Only in recent decades have businesses and residents been drawn to the potential of downtown Phoenix. The Freeport-McMoRan Center was designed and built during this evolution and ensuing building boom. It was paramount to create a building that was able to quickly pivot to the evolving market needs of downtown Phoenix, and representative of its new urbanist mindset.
At 26 stories, the Freeport-McMoRan Center was the first high-rise built downtown in more than a decade. Rather than follow the tradition of blending with the ruddy desert landscape, its unconventional architecture brought new contextual design to downtown Phoenix, with inspired panoramic views of city, mountain and Sonoran Desert reflected in its glass and steel skin. Sophisticated sustainable strategies include vertical and horizontal fins that limit direct sun into the building while allowing users to enjoy natural light and views.
This tower was completed as a core-and-shell in 2009, expected to house Class A office space, condominiums and possible facilities for Arizona State University's growing downtown campus. As the market for potential tenants shifted, SmithGroup worked with the owner and developer to reposition the building for other uses, and subsequently designed the 300-room Westin Hotel within the tower. 
A two-story, slab-on-grade podium/structure added to the western portion of the property provides a welcoming guest entrance for the hotel, with an exterior courtyard, restaurant, outdoor dining area, and second-floor swimming pool. The ground floor houses the hotel lobby, hotel elevator and approximately 4,000 square feet of retail space.  (It also houses a separate office lobby and elevator to serve the uppermost eight floors of office space occupied by the Freeport-McMoRan Copper & Gold mining company.)
Above the tower's nine floors of above-ground parking, the Westin occupies floors 11 through 18. Hotel improvements include 300 guest rooms and hospitality suites; meeting rooms and associated pre-function spaces on two floors, connected with a communication stair; a banquet pantry; lounge; spa; hotel administration and other back-of-house functions. The hotel design and build-out was completed in less than a year, a smooth and successful transition to a new and more dynamic downtown Phoenix.