SmithGroup Exploring Post
For over 40 years our Detroit office has run an Exploring Post program that provides high school students with the opportunity to "explore" the architectural and engineering professions while participating in hands-on activities alongside professional architects and engineers within SmithGroup.  Through workshop meetings at our office in the Guardian Building, the Exploring Post enhances the participants' enthusiasm and passion in their field of interest and encourages the career awareness required for their success as they advance to college.  
This year's 2020-2021 season has been reimagined to accommodate current health and safety precautions, but we have a remarkable program planned and invite interested students to participate! Anyone is free to join at any time within the program year. See our schedule for future workshop dates.
Don't forget that there will be (2) scholarship opportunities this year! SmithGroup Exploring Post offers an annual one-time scholarship opportunity and the University of Detroit Mercy will also be offering a scholarship opportunity. Click here for more information!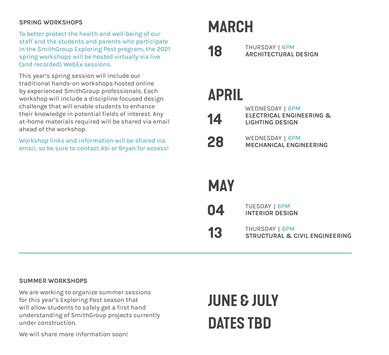 COLLEGE INFORMATION SESSION
INTRODUCTION TO ARCHITECTURE
INTRODUCTION TO ENGINEERING