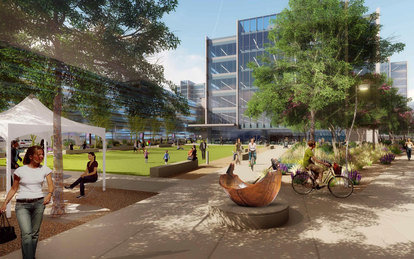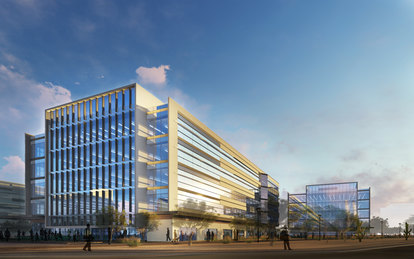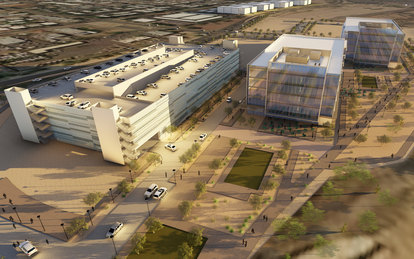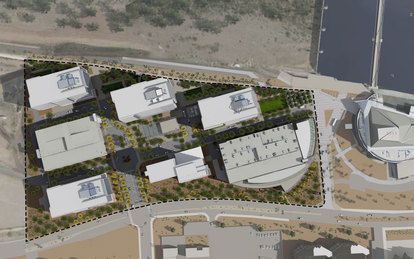 In Tempe, a former brownfield site is being converted into a place of innovation, discovery, education and the arts (I.D.E.A.). Our team's master plan for the site creates a new vibrant space that combines all of these elements into one, to help the city meet its goals.
市场/服务
Architecture, Interiors, Landscape Architecture, Research Parks & Innovation Districts, Science & Technology, Urban Design
大小
18 AC / 1,000,000 SF
Within the heart of Tempe sat an industrial brownfield site adjacent to a lake where the city had tried for years to conceptualize a successful use. Due to the site's location and its potential to create thousands of jobs, the city of Tempe wanted to create a biotechnology campus to incubate potential startups, provide a space for large corporate relocations, and maintain the previously established synergy with Arizona State University (ASU).
With our firm's experience in the planning and design for the ASU downtown Phoenix Medical Campus, our team was brought on alongside the Boyer Company and Oakland Construction to plan and design for five multi-story office buildings and two parking garages. The goal of our master plan is to create a district that will support the city's initiatives to build a more urbanized and sustainable community, while creating more opportunities within the biotech industry.
While the campus master plan continues to evolve, one of the goals is for Tempe Tech to become a national hub that can attract tech, medical, and biosciences to the area, boost the economy, and create a thriving business district with public access points. The buildings will provide new real estate inventory, enhanced by the proximity to research and development at ASU, which is ranked as one of the most innovative institutions in the country.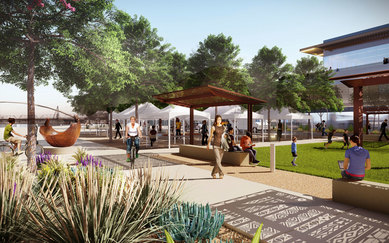 The design of the buildings will evolve based on tenant needs with several objectives remaining constant in the plan. For example, the plan creates publicly accessible spaces by converting the areas between buildings into pocket parks. With the Tempe Center for the Arts sitting adjacent to the site, the plan provides opportunities for the public amenity to connect to the campus should the city choose to link the two in the future. The public spaces will also have public art on display to help draw pedestrians in and create more vibrant and welcoming outdoor spaces. 
Sustainability is addressed in the plan with energy consumption being a prime consideration, with the orientation of the buildings set to maximize solar energy and minimize heat gain. The buildings are also positioned to provide views of the adjacent lake, mountains and parks to attract future tenants.
When completed, the I.D.E.A. Tempe Master Plan will help bring the city's vision to life, creating a new district centered around biotech and technology, while supporting the city's growing population through economic growth and new public spaces.