Target Value Delivery: Insights and Experience You Can Use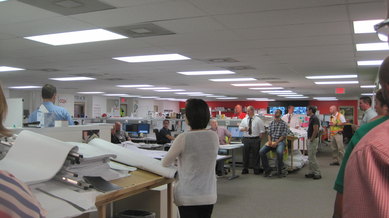 As the healthcare industry faces an increasingly challenging financial environment, achieving greater cost control while ensuring the highest value has become providers' number one concern. Healthcare facilities are high-value strategic resources: expensive to design, build and operate. Target Value Delivery (TVD) is an innovative new response to bring greater value to clients than traditional project delivery. 
Rather than designing first and then estimating costs, TVD starts with a validated cost for all project components as well as targets for other value metrics like sustainability, operational costs and staffing, speed to market, flexibility, and patient experience. It uses multiple design sets and rapid prototyping to unearth what customers both need and want, leading to better decisions. You're invited to join top industry leaders for an in-depth exploration of the economic and practical benefits of using TVD for complex healthcare projects. As a participant, you will have the opportunity to network with peers, review key tools and techniques, and discuss new solutions across all scales that better align project deliverables with customer-defined value.
SCHEDULE
12:00pm    Luncheon
1:00pm      Panel and Workshop
5:00pm     Cocktails
5:30pm     Dinner
FACILITATORS
Heather Chung, Assoc. AIA, EDAC, LEED AP BD+C, Vice President, SmithGroup
Heather Chung leads SmithGroup's Healthcare Practice in San Francisco. She has specialized in strategic planning and healthcare design for nearly 20 years. Her passion lies in applying divergent thinking to create the most intelligent and appropriate design responses to the healthcare industry's evolving needs and aspirations. She leads a talented group of 90 professionals dedicated to designing healthcare environments. She has simultaneous B.A.s in Architecture and Economics from University of California, Berkeley, and an MBA with an emphasis in Strategy and Entrepreneurism from University of California, Los Angeles.  
Cromwel Burgos AVS, DBIA, CHC, LEED AP, McCarthy Building Companies
Cromwel has been an integral part of multiple projects with an estimated construction total of more than $3 billion over the last 18 years, and was part of the team that delivered the first Integrated Project (IPD) using Lean methodologies for the Canadian Ministry of Health. Cromwel is an approved LCI Last Planner® System, Target Value Delivery, and Mindset of an Effective Big Room instructor/facilitator. He is a member of Design Build Institute of America (DBIA), Certified Healthcare Constructor (CHC) by the American Hospital Association, SAVE International as an Associate Value Specialist (AVS) and US Green Building Council (LEED AP). 
Felipe Engineer-Manriquez, McCarthy Building Companies
International Lean speaker, intrapreneur, MBA graduate, KAIZEN Green Belt, a Jeff Sutherland Certified ScrumMaster®, and McCarthy Building Companies' Corporate Lean Manager, Felipe Engineer-Manriquez is a committed Lean practitioner with direct experience on a variety of construction and supporting business projects. Engineer-Manriquez is an active contributing member of the Lean Construction Institute and is an approved Last Planner® System, Target Value Delivery, and Mindset of an Effective Big Room instructor/facilitator.  
THE SMITHGROUP ADVISORY BOARD SERIES At SmithGroup, we believe it's imperative that our design approach is aligned with our clients' missions and real-time interests. We regularly convene these informal client forums to ask questions and explore ideas with organizations on the leading edge of the healthcare industry. These exchanges energize our design process, helping to evolve our practice towards more creative engagement with our client's needs. We sincerely appreciate your participation, and look forward to an engaging exchange of ideas touching on key factors impacting healthcare delivery today.