California Pacific Medical Center - Van Ness Campus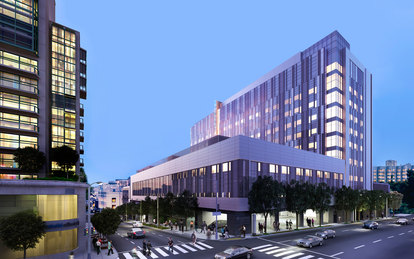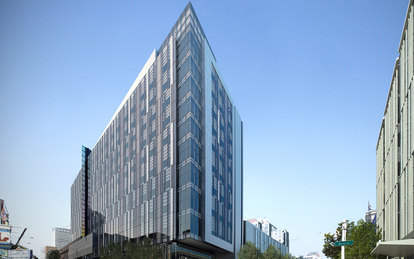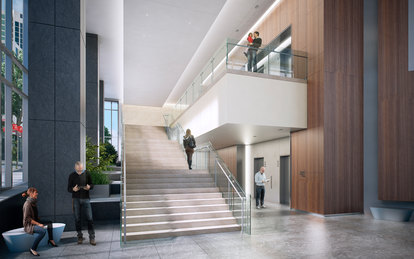 An integrated project delivery team of hundreds of planners, designers, contractors, and hospital leaders worked side-by-side to redefine what a hospital means to a city: as a piece of architecture; as a representation of health, wellness and technology; and as a commitment to the many communities it serves.
Location
San Francisco, California
Markets/Services
Healthcare, Acute Care, Women's & Children's Health, Strategic & Master Plans, Architecture, Programming, Medical Planning, Interiors, Lighting Design
Size
1,015,000 SF
Featured Awards
American Institute of Architects, San Francisco, Integrated Project Delivery Honor Award, 2008
AEC Excellence Award, 2016
Occupying an entire city block along a major San Francisco arterial, the new 12-story, 274-bed California Pacific Medical Center (CPMC) Van Ness Campus is designed as a 'hospital within a hospital.' Based on a system-wide strategic master plan developed by Sutter Health and SmithGroup, this new hospital unites two of CPMC's existing urban campuses into a tertiary and quaternary hub for all of CPMC's facilities citywide, housing two hospitals—adult acute care and women's and children's—in one building.
The integrated project delivery team utilized forward-thinking methodologies including Lean programming and state-of-the-art modeling and fabrication techniques to create one of the smartest, safest and most sustainable hospitals in the country, nearly a year ahead of schedule and on budget. The use of 120 viscous wall dampeners—the first U.S. hospital to use this technology—ensure the facility can withstand a major earthquake and remain fully functional for up to 96 hours without any outside help.
The next-generation program dissolves departmental boundaries, both functional and physical, to reintegrate them around the point of service, improving the workflow and productivity of the whole system. The most significant application of this strategy was the creation of an innovative, integrated interventional platform that functions as a combined surgery, interventional imaging, cardiac catheterization and special procedures floor, wrapped around a singular post-anesthesia care unit (PACU) and prep/Level-2 recovery operation.
Private patient rooms and thoughtfully planned family zones encourage the healing powers of the human connection. Indoor and rooftop gardens and the artful use of a calming palette reduce feelings of stress and anxiety, enhancing the overall hospital experience for staff, patients, and visitors. Clear wayfinding leads patients from the entrance to the registration and waiting points, and a hierarchy of spaces reinforces intuitive movement within a footprint that spans an entire block.