Two SmithGroup Architects Elevated to the AIA's College of Fellows for 2018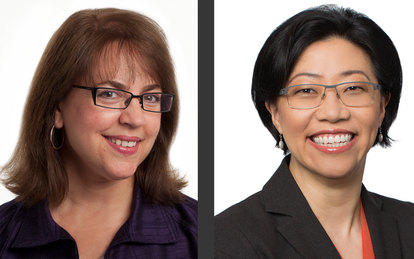 SmithGroup, one of the nation's largest integrated design firms, congratulates Suzanne Napier and Rosa Sheng on being elevated to the American Institute of Architects (AIA) College of Fellows. This recognition reflects the significant contributions that the two designers have made to the profession of architecture, the education of future architects, and their long-standing commitment to the AIA.
A vice president and veteran of SmithGroup for nearly 30 years, Suzanne Napier, FAIA, LEED AP, ISPE, previously served as a member of the firm's Board of Directors and currently leads the Science & Technology studio at its San Francisco office. Highlights of her career include a range of large and complex award-winning projects, including the University of California & Lawrence Berkeley National Laboratory's Chu Hall; University of California, Merced's Science and Engineering Building 2; University of California, Berkeley's Energy Biosciences Building; and University of the Pacific's Arthur A. Dugoni School of Dentistry, to name a few.
An expert in the planning and design of laboratory facilities for the future, Napier has been called upon to present at Tradelines; University of California, Berkeley; and the International Institute for Sustainable Laboratories, among others. Additionally, she teaches as a guest lecturer for engineering and sustainable design programs at local academic institutions as well as internationally on building information modeling. She has also served as a commissioner for the California Supplemental Examination (CSE), an additional test required for obtaining architectural licensure in the state.
Napier earned a Bachelor of Architecture from University of Notre Dame.
Rosa Sheng, FAIA, LEED AP BD+C, joined SmithGroup in October 2017 as a principal in support of the growing Higher Education and Workplace markets at the firm's San Francisco office. In her 24-year career tenure, she has led a variety of award-winning and internationally acclaimed projects, from the aesthetically minimal, highly technical development of the glass structures for Apple's original high-profile retail stores, to the innovative and sustainable Lorry I. Lokey Graduate School of Business at Mills College in Oakland, California.
Sheng is the 2018 President of the American Institute of Architects (AIA) San Francisco chapter and founding chair of Equity by Design, a national movement for equitable practice in architecture. Her work in this field has garnered coverage in Architect Magazine, Architectural Record, The Wall Street Journal, The New York Times, TEDxPhiladelphia and KQED/NPR. It also earned her a national Diversity Recognition Award from AIA in 2017 and a Presidential Commendation from AIA San Francisco in 2015. She is applying her expertise in this arena to establish SmithGroup's Equity Diversity Inclusion Program.
Sheng graduated Cum Laude from Syracuse University, where she earned a bachelor's degree in architecture.
Napier and Sheng—along with the entire class of Fellows—will be honored at an investiture ceremony on June 22 at the AIA Conference on Architecture 2018 in New York City.
The American Institute of Architects Fellowship program was developed to elevate those architects who have made a significant contribution to architecture and society and who have achieved a standard of excellence in the profession. Election to fellowship not only recognizes the achievements of architects as individuals, but also their significant contribution to architecture and society on a national level. The program's stringent requirements result in only three percent of the AIA's more than 91,000 members being recognized as fellows. Currently, there are 3,425 living fellows globally.
For more information about SmithGroup, please visit our Company Fact Sheet.