Concept Design of the New Wisconsin History Center is Revealed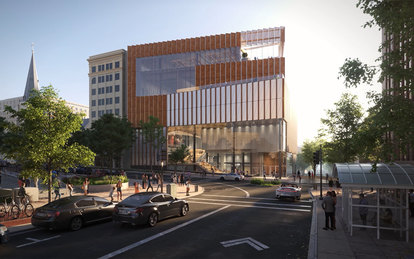 The Wisconsin Historical Society has unveiled the concept design for a new state-of-the-art history center in Madison, Wisconsin, that is expected to be completed in late 2026. Stewarded by the Wisconsin Historical Society in partnership with a world-class design team of SmithGroup, one of the nation's leading integrated design firms, Ralph Appelbaum Associates, and Continuum Architects + Planners, the five-floor building with stacked terraces will offer unforgettable views in all directions and more than double the exhibition space of the current museum.
The history center will sit squarely at the intersection of Madison's vibrant State Street and Wisconsin's Capitol Square, serving as a hub of community engagement and civic activity. The 100,000-square-foot landmark will provide unprecedented access to the state's venerable collection of nearly 290 million items.
The rotated building form looks beyond Madison to physically and symbolically connect with all of Wisconsin—an extension of a museum experience that will center the voices of communities across the state and widen what is known about Wisconsin and North American history. The lenticular façade gives the building depth and movement, revealing new perspectives as one's vantage point changes. Local materials including weathered zinc, embossed stainless steel, granite, and glass create a dynamic exterior inspired by Wisconsin's ever-changing landscapes, the movement of the surrounding lakes, and the state's rich history of industry and innovation.
"This faceted and layered façade symbolizes that history is complex, dimensional and told from multiple perspectives," said Monteil Crawley, lead designer for Wisconsin's history center. "The architectural design is bold and dynamic yet very intentionally welcoming and comfortable for all guests. It will be an engaging and enlivening place for the community to gather and a landmark destination for visitors."
Visitors will be welcomed into a large, open lobby that will feature space for public programming, a retail storefront and dedicated areas to serve students and community groups. The lobby will lead to an expansive wooden staircase resembling an ancient dugout canoe, inspired by the region's long history of water travel and the recent recovery of two Native American dugout canoes from Madison's Lake Mendota. The prominent staircase will offer commanding views of the Capitol and serve as an active gathering space for free public programming with an adjoining café.
The second floor will house a rotating community gallery that will provide a platform for local history organizations and other groups from across Wisconsin to share their unique histories, as well as a changing gallery large enough to bring the nation's most sought-after traveling exhibits to Wisconsin.
The third floor will be home to two permanent galleries. The first gallery will be a lively celebration of Wisconsin's identity in American culture, featuring beloved objects from the Society's rich film, television, music and media collections. The second gallery will be an interactive exploration of American experiences, including the history of our democracy, examples of engaged citizenship and experiences of the region's Sovereign Nations.
The fourth floor will feature an immersive gallery that evokes the feeling of being outdoors among Wisconsin's vast and varied landscapes that have sustained human life and seen thousands of years of resourcefulness, ingenuity and innovation. Through one-of-a-kind items from the Society's world-class agricultural collection, to interactive exhibits that place visitors among shipwrecks of the Great Lakes and treasured recreational pastimes like hunting, fishing and boating, guests will explore the unique reciprocal relationships Wisconsin people have forged with the natural world over thousands of years. Two adjoining terraces overlook Capitol Square, Lake Mendota and the Driftless Area in the distance, providing a direct connection between the exhibit experience and the landscapes beyond the walls of the building.
The fifth floor offers striking event spaces designed to host a variety of public and private gatherings. The space connects to a spectacular rooftop terrace that invites the community to experience incredible views of the Capitol, the Madison Isthmus, area lakes and beyond.
The history center replaces the Wisconsin Historical Museum, which was located in the space of a former hardware store and unable to adequately provide access to the state's collections to school groups and residents. The new center will be located on the site of the former museum and two adjacent properties on Carroll Street. It will welcome more than 200,000 guests annually and double the number of students served to 60,000.
"As the Wisconsin Historical Society's new front door, the history center will be a hub of engagement and reflection, a place that draws people in and invites them to explore the stories behind the state's history and culture in ways that have never before been offered," said Christian Øverland, the Ruth & Hartley Barker Director and CEO of the Wisconsin Historical Society. "This is a building that sets the stage for activity, exploration and shared connection. It goes beyond just viewing exhibits and artifacts. When you walk out of this space, we hope you will look at the world a little differently."
SmithGroup's Cultural practice encompasses a network of specialty expertise, including planning, programming and design of museums and galleries, archives and collections care, visitor and interpretive centers, children's museums, science centers, arts education, performing arts and cultural landscapes. For more than half a century, the firm has delivered award-winning projects for some of the world's most iconic places and prestigious institutions. Some of its museum projects include the National Museum of African American History and Culture (Washington, DC); National Museum of the American Indian (Washington, DC); Thomas Gilcrease Institute for American History and Art (Tulsa, Okla.); and Edsel and Eleanor Ford House Visitor Center and Administration Building (Grosse Pointe Shores, Mich.).
SmithGroup is providing integrated design services, including architecture, interior architecture, MEP engineering, landscape architecture, civil engineering and life safety and fire protection engineering. SmithGroup is collaborating with Continuum Architects + Planners on architecture and interiors. Ralph Appelbaum Associates is the exhibit designer. GRAEF is serving as the structural engineer.
For more information about SmithGroup, please visit our Company Fact Sheet.
The Wisconsin Historical Society, founded in 1846, ranks as one of the largest, most active and most diversified state historical societies in the nation. As both a state agency and a private membership organization, its mission is to help people connect to the past by collecting, preserving and sharing stories. The Wisconsin Historical Society serves millions of people every year through a wide range of sites, programs and services. The Wisconsin Historical Foundation, a 501(c) (3) tax exempt organization, receives grants and private contributions benefitting the Wisconsin Historical Society and administers the membership program. For more information, visit www.wisconsinhistory.org.
Established in 1996, Continuum Architects + Planners is a highly technical and creative team of experienced professionals offering interactive planning and programming, inspired architectural and interior design, comprehensive project management, strategic sustainable design, detailed historic consulting and rehab, and valuable technology as part of our in-house services.  A recipient of more than 60 awards, Continuum designs diverse building types in an array of markets, including higher education, commercial, residential, federal, and civic in the state of Wisconsin. They have completed 50 projects for the state of Wisconsin including: The University of Wisconsin Madison Chazen Museum of Art and currently the new Engineering Building. Most recent projects include UWM's School of Freshwater Sciences and the Lubar Entrepreneurship Center.
Ralph Appelbaum Associates (RAA) is the world's largest practice dedicated to the planning and design of museums and narrative environments. Past and current projects—over 850 commissions in 52 countries—include many of the world's most recognizable cultural attractions. More than 75 million people encounter their work every year. Headquartered in New York, with branch offices in London, Berlin, and Beijing, RAA's international studios are diverse and interdisciplinary: drawing together designers, architects, artists, historians, educators, media-makers, technologists, writers, and poets that are passionate about encouraging a mindful connection to the world around us. They use the tools of storytelling, design, theater, media and interactive technology, and the narrative power of architecture, to communicate big ideas that convey the history, core values, and key messages of their clients. They strive for the optimum balance between sustainability, value, design, and experiential quality and believe that connective and transformative experiences in public spaces are essential for individuals, communities, cities, and nations—now more than ever.