From the nearest window to the distant skyline, architecture creates the backdrop to our lives. It's where we work and play, learn and heal, invent and explore. Architecture has the extraordinary power to shape our daily experiences for the better, by fostering interaction, offering comfort, encouraging discovery, bringing joy to people's lives. Done with care, it can create a beacon of beauty and inspiration. And that, in a very real way, can improve the world.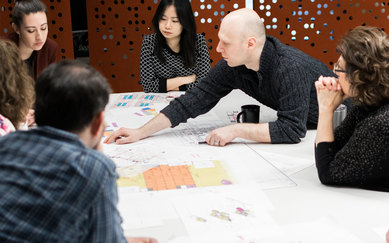 Creating architecture is a privilege, one that comes with great responsibility. Our experience ensures that the process is a smooth one, dovetailing design goals, technical performance, costs and schedules. We recognize that each client has entrusted us with a significant undertaking for their organization. We return that trust by building a collaborative partnership that gives shape to the client's needs and ideas. 
Architecture at SmithGroup brings together diverse minds—the client, their user groups, the construction team and our integrated team of specialists—to craft a shared vision that leads to a unique and beautiful solution for each client. It's exciting. It's engrossing. It's how we create great architecture.