Making Lean Integrated Project Delivery (IPD) Work
Eleven years ago, SmithGroup signed a contract that invited us to work in a radically different way on a project of immense complexity and scope, two new Sutter Health/California Pacific Medical Center (CPMC) campuses in San Francisco: Sutter's flagship, $2.1 billion Van Ness Campus, and the smaller Mission Bernal Campus. This three-way contract brought together SmithGroup, Sutter Health, and contractor HerreroBoldt to work as a Lean integrated project delivery (IPD) team on both projects simultaneously. That meant we and all of the subcontractors—about 240 design professionals in total—would be working together in the same "big room" environment for the duration of the project, which turned out to be more than 10 years, five of those years at the construction site.
Successfully bringing the expertise of all these parties together into one team, all moving in the same direction, is no easy task. Under traditional contracts, architects and contractors aren't accustomed to working together like this. With integrated project delivery, all three parties—owner, architect, and contractor—are collaborating from the start, joining forces to problem-solve, pursue cost efficiencies, streamline the construction process, and share risks and rewards. That's the theory, at least. Would it work in practice?
Fortunately, Sutter Health has long been a proponent of Lean IPD, and together we set up and maintained the IPD process in a way that aligned us for success. What we found is that it takes a real focus on building community—it's all about the people.
When our core team recently presented the project at the 2018 Lean Construction Institute (LCI) Congress, keynote speaker David Marquet summed it up best when he said that Lean projects were often successful when the leadership leaned back rather than leaning in. In other words, by stepping back, the leaders allow others to step forward with information, expertise, and ideas of their own.
That helps create a culture of trust, where everyone is willing to try new behaviors and new types of engagement without fearing they'll have the rug pulled out from under them. When everyone on the team—an architect or an engineer, a sheet metal contractor or a drywall framer—feels able to share what they know, that fosters the creativity and innovation you need to have a high-performing team. Trust allows for continuous improvement in an atmosphere of healthy competition.
It's also essential to have the right structures in place to make sure that everyone is on the same page and supports each other. For the CPMC projects, daily check-ins were key. At 11:30 every morning, the IPD team gathered for our daily check-in to quickly share updates. The purpose was to share information, enhance communication, and make us more accountable to the entire team. Each design and trade partner had a representative to report on progress toward commitments and alert others if there was a constraint. The team then problem-solved any issues to keep the work on schedule, or re-planned work downstream.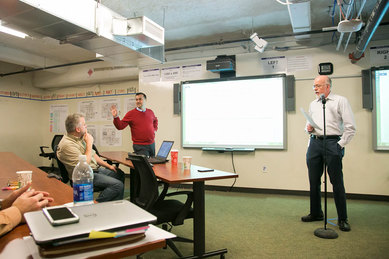 In addition to these daily check-ins, each Tuesday we dedicated the full day to planning the next five workdays. Each team member would present on what they'd been doing, make commitments for the upcoming week, and confirm that they had the number of staff and the expertise they needed. As part of the emphasis on "leaning back," there were opportunities for individual team members—not just the team leaders—to present at these meetings.
An all-day meeting is a big commitment. Given that the project was to last many years, with all of us working away from our own companies, it was important to make room for team building. We started these Tuesday meetings with "stretch and flex" exercises. Lunch was brought in from local eateries, which built camaraderie as we worked and ate together. To maintain a culture of positivity, we would announce "small wins," letting the whole group know when someone came up with a great way to improve safety or when we shortened the schedule by three months by changing the construction sequence of the central utility plant on the roof.
We also held monthly birthday celebrations, special luncheons to mark holidays, and ceremonies to celebrate project milestones. Team members volunteered together in the community and held charity fundraisers ranging from a celebrity bartending event to an auction of baked goods to a toy drive for Tenderloin neighborhood families.
Every quarter, we held what we called "big big room" meetings to reinforce the Lean culture. We assembled the entire IPD office group—240-people strong—to enhance our knowledge of Lean construction and introduce new members to the Lean way of doing things.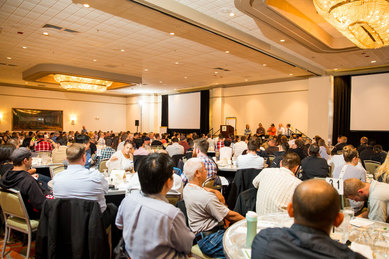 To make Lean IPD work, the client's senior leadership must buy into it from the start and remain committed throughout. If they only pay lip service or get cold feet down the road, that can demoralize the trade partners. This buy-in has to be across the board to reinforce the team culture. If the trade partners worry that the client will pull the plug on the IPD process, then the atmosphere of trust won't develop, and everyone will retreat to their habitual way of working. With the CPMC project, Sutter Health's strong commitment to IPD was a big part of the reason that the team kept collaborating and sharing ideas, even on those occasions when team members were in disagreement.
To ensure that we kept challenging ourselves while keeping on course, we displayed dashboards in the big room that tracked team value indicators, including safety, people, quality, cost, and schedule. During weekly big room meetings, we updated these dashboards so everyone could see how we were doing and stay motivated.
Because of the Lean IPD methods, we were able to achieve a level of safety several orders of magnitude beyond what is typical for a project of this size. Even our insurance carrier was surprised. For a project like this, claims paid due to injuries at the job site typically total $1.10 per man hour. On this project, that amount was only 15 cents.
We were also surprised to see just how much the IPD process facilitated quality control. Over the course of the five years of construction, we held 42,000 quality control inspections and had a 99.7 percent passing rate. The team achieved this by not calling for an inspection until we were absolutely certain the work was done right.
Every week, we posted the amount of money left in the contingency budget, which kept everyone focused on cost efficiency. We ended the project with a contingency balance of more than $20 million. As part of the contract, Sutter Health shared a portion of the savings with the IPD Risk Partners.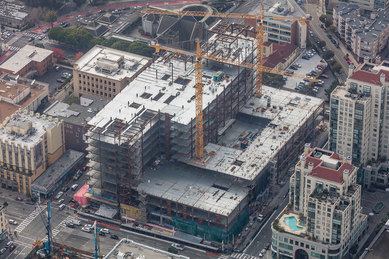 As architects, we see IPD as a design opportunity. Having our trade partners in the room with us to collaborate with early on greatly improved the constructability of our solutions. They were able to give us direct feedback during the design phase that helped ensure our solutions would meet cost parameters. We wanted to hear ideas from everyone: we figured out how to balance leading with listening, establishing a strong vision to propel the project forward while accepting input from any team member. For example, the ceiling design included the input of all trades regarding placement of lighting and devices. Because of that collaboration, we were able to recognize the challenges that our trade partners faced in placing elements in alignment, and we worked together to find mutually agreed-on alternatives.
Before we started this project, we certainly had some questions about how well IPD would work. Now, we're completely sold on it. We had more than 30 SmithGroup architects who were working in the big room sites for the CPMC projects. Now, they are bringing their enthusiasm for Lean design and construction back to the San Francisco healthcare studio. I've heard a number of them say how much they miss working with trade partners in the early stages of design. So we're looking at how we can implement what we've learned into our design process, even for those clients who don't choose IPD.
And for clients considering implementing IPD for the first time, we have gained a lot of experience that we can share. When choosing an architect or a contractor for an IPD project, it's a good idea to collect references from trade partners who've collaborated with that firm and find out if the experience was a good one. IPD isn't the right fit for every firm's culture, but when all team members are on board, the process is amazing.
Now, as we have completed the Mission Bernal hospital and are reaching the end of the Van Ness Campus hospital project, we have become strong proponents of IPD and would encourage more healthcare clients to consider adopting it. Despite the mind-boggling complexities of projects of this size and scope, Sutter announced at the 2018 LCI Congress that the project is $150 million under the original project budget. Also, we're on track to meet our client's March 2019 "heads in beds" deadline. None of that would have been possible without Lean IPD.