Mixed-Use Convergence & The Future of Buildings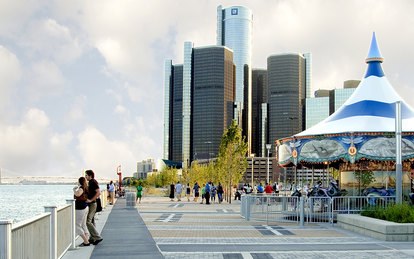 Picture this: You are entering a building in Detroit—where you have just checked into an Airbnb rental for a much-needed personal stay—when you are alerted by your office that an important business matter has come up and needs your attention. Before getting your vacation groove on, you need to jump into planning a meeting with team members with local and national participants…and it needs to happen the next day. The apartment building's virtual concierge helps you locate and book a conference space—an OfficeBnB space that is part of the building's amenities package. The space is just down the hall from your apartment and is equipped with everything you need, allowing you to conveniently host the meeting on-site. Better yet, the conference center is adjacent to a rooftop plaza, which allows guests to enjoy music, food and drinks sponsored by the building. Following the meeting, participants, locals and guests from other Airbnb units filter onto the plaza. You and your colleagues spend a few hours here chatting and socializing as you gear up to attend a concert, which will take place in a few hours at a performance venue located downstairs.
A narrative like this would have seemed far-fetched a decade ago, but such stories are becoming increasingly realistic as personal and professional worlds evolve and become more enmeshed with technology—an integration which is resulting in a new convergence between life, work and play.  
When we take a step back and consider situations such as the one described above, we are drawn to reimagine what role a building could play in similar scenarios and even how the role of building creators—strategists, designers, architects, urban planners, developers, and the like—may evolve in the future.
Blurring Boundaries and the Intersection of Life, Work & Play
Technology has allowed us to reach far beyond the walls of a single building when it comes to how we choose to live, work and play, and these facets of our lives are becoming more interconnected as opposed to independent of each other. Moreover, the rapid changes we've witnessed over the past decade make the phrase "this is not your grandmother's…" seem even more disparate from where we have been and where we are headed. The boundaries of where one activity ends, and another begins are blurred and challenge what and how to create physical spaces that are future-proof. As we look to the creation of spaces for the future, the focus needs to be on experience and a user's story, rather than just physical. We need to ask ourselves questions like, "How can our buildings support and improve the human experience?" or "How can they address our need to better connect?" Thinking through these questions can lead to a more strategic development.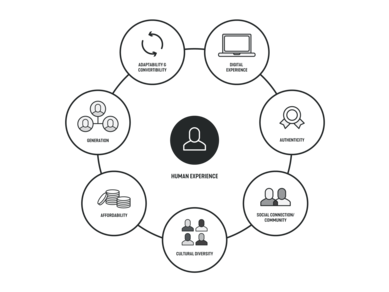 Evolving Building Typologies
Building typology can no longer be imagined with singularly focused programs. Diversity will be key to creating spaces that are adaptable and enable buildings to "flex" as needs change over time. For example, what if a residential development had strategies in place that would allow for the creation of diverse unit sizes that could appeal to young adults, families, and retirees? This begins to look at creating communities that cut across the span of a lifetime. What if a handful of units within a facility could easily be converted into smaller office spaces, providing residents opportunities to go from "living" to "working" and vice versa all within the same building as needed? A recent study reports an increase in the number of members of older generations that continue to work after retirement, with many starting small home-based businesses. Creating a physical platform that can easily adapt to multiple typologies will provide ultimate flexibility.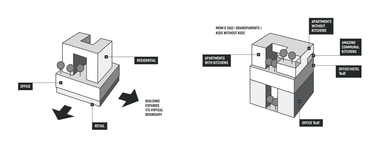 Roles Are Changing
Building developers are also finding it increasingly challenging to confine their realm of responsibility solely to the management of a facility's physical systems and assets. Rather, development companies are recognizing that they need to expand their roles and provide more robust service offerings if they are to remain competitive in this changing marketplace. And as more experience-based amenities are infused into spaces, greater is the need to organize and stitch them together in a way that is seamless and connected with technology.
Technology also enables developers and owners to gather data from buildings and spaces and use it to better respond to end user needs. We are only starting to scratch the surface in this arena and must continue to explore how data can be applied to help personalize services and enhance user experiences.
For instance, imagine walking into a building that houses a hotel, multi-unit apartments, bookable work spaces, retail, and space for social events. A user could easily connect to social events happening in common spaces, book a workspace for a day, and make a dinner reservation through a voice activated digital concierge. Taking a cue from co-working environments, start-up businesses could partner with the building to participate in the activities by booking the space for a set of events rather than coordinating through traditional lease arrangements, as would have been done in the past.
Setting the Stage for Success
While the rise of the sharing economy has allowed for the co-mingling of different functions to happen within a single space, success will ultimately revolve around the ability to create immersive experiences that draw people to underpin the financial goals of each invested party. If we can design and deliver environments that support these goals, the demand for more responsive and fluid buildings and support systems will continue to increase.
So, as we expand a building's potential uses, purposes, and goals, how can we continue to keep capital investments reasonable? One prospect is to integrate service as a value add. Curating touchpoints and human interface with elements such as "personalized" service or integrated resources (through technology) will enhance the journey and create an additional asset for the developer. It also keeps users, tenants and participants engaged and entices them to stay connected with a building and its brand.
If this approach is to gain traction, new partnerships and structural arrangements will likely be required. To meet revenue demands, newly created partnerships will target increased returns by leveraging shorter term leases against the increased cost of those leases and by maximizing the use and diversity of an asset across deliberately narrow time periods. 
Other strategies will include looking at economies that can be derived by multiple facilities or entities coming together to share parking facilities, sanitary systems, cooling loads, green roofs, or a range of other amenities that can disperse costs across a network of assets, as opposed to a single building development. These proposals—and others that have yet to be conceived—reveal that the sharing economy can be taken to a physical level to provide buildings scalability and affordability for both the provider and users, today and in the future.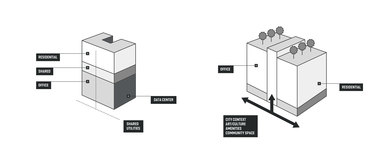 The Possibilities Are Endless
By the year 2050, or perhaps sooner, buildings will have evolved beyond physical spaces. Imagine the what-if's… Kitchen-free apartments, where residents have access to a community kitchen that is shared and outfitted with restaurant grade equipment, reservable spaces, and an on-call chef. Drop box destinations inserted into building bases where users can pick up Uber Eats or Amazon deliveries. Rooftop community gardens linked to farmer's markets and the community at large. Curated community events that transform conference rooms to accommodate "game day" parties or events that reach far beyond the tenants of a single building. Office spaces or "guest suites" that adapt the Airbnb business model to grow beyond WeWork's current space sharing platform.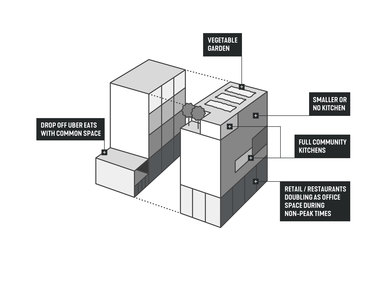 While some may seem far-fetched, these ideas for what and how a building may function in the future reach beyond the definition of physical space and begin to create authentic and holistic experiences that allow stories to come to life. Perhaps a better question to ask is, "How can a building allow an individual or a community to create its own unique stories?" The more we consider the possibilities of how the stories can be stitched together, the better informed we will be to position ourselves to create those spaces.