Depaving Paradise & Tearing Down Parking Lots: Milwaukee's Gray-to-Green Infrastructure Movement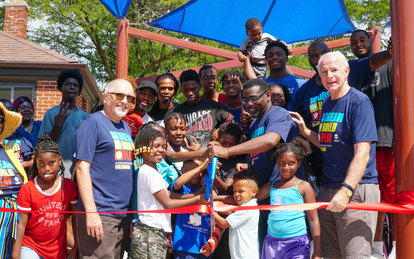 "They paved paradise and put up a parking lot," Milwaukee Mayor Tom Barrett said at a ground-breaking ceremony on a hot day in the summer of 2019, quoting the legendary Joni Mitchell song. Barrett was at Longfellow School on the southside of Milwaukee, surrounded by children and community members, ceremoniously lifting his shovel to kick-off an overhaul of the public school's playground. "And we are here today to tear it out." 
Longfellow School, along with three other schools owned by Milwaukee Public Schools (MPS), had been competitively selected by the Milwaukee Green Schools Consortium to receive funding and design assistance to tear out the hot, unforgiving, paved play yard and install a new dream playground comprised of a small synthetic soccer field, an outdoor classroom, performance amphitheater, greenhouse, natural play features, and plenty of green infrastructure.
These kinds of groundbreakings and grand openings, celebrated by the school community and the neighborhood and captured by the press,  have started to become more common here.  
A quiet movement is underfoot to convert the city from gray to green infrastructure thanks in part to the leadership of the Milwaukee Metropolitan Sewerage District (MMSD). MMSD, led by Executive Director Kevin Shafer, is on a mission to spread green infrastructure (GI) throughout the metropolitan region and achieve the ambitious goal of 740 million gallons of captured rainwater during each rainfall, roughly equivalent to one inch of volume spread over their entire sewer service area.   
Through their taxing authority as a sewer district, MMSD has established funding mechanisms for the installation of GI, which includes de-paving. MMSD provides direct GI grants to organizations, private entities and non-profits, and supports the municipalities within its service area in the form of returned tax dollars proportionate to each community's tax levy. In fact, it is safe to say that MMSD is the primary driver of GI installation in the Milwaukee region and just about every installation you come across here likely had some direct or indirect financial support from MMSD. 
All across Milwaukee, pavement is being torn out and converted to new green space and GI. There is a literal gray-to-green wave happening.  
Creating New Green Space 
I was recently in a meeting with staff from MMSD and the City of Milwaukee, discussing a planning project to spread GI throughout the combined sewer service area with the goal of eliminating combined sewer overflows. We were reviewing the Historic Mitchell Street corridor, a mile-long local business improvement district on the city's primarily Latino southside. The goal was to squeeze GI into several public surface parking lots to capture runoff from those lots, which serve the local businesses and residents.  
I asked the question tentatively, sure that I would get some pushback as I have in many other communities when asking it: "Can we lose some of the parking?" I was pleasantly surprised by the response. "Yes, we have an over-abundance of parking," said Anthony Gayfield of the City of Milwaukee's Parking Authority.  
I was not accustomed to parking agencies admitting they had too much parking, but I certainly wasn't prepared for what he said next. "In fact, let's just take out that whole lot and make it a park." 
SmithGroup had already been involved in numerous projects, including the one at Longfellow School, to remove acres of asphalt on MPS playgrounds and playfields to make way for open green space and upgraded play features. MPS owns and programs 52 stand-alone playfields throughout the city and has an aggressive plan to overhaul all of them, taking on three to four each year. Columbia Playfield, the first big success of the playfield renovation program, opened in 2019 with a celebratory ribbon cutting ceremony and a packed crowd. The playfield is located in one of Milwaukee's most underserved neighborhoods, a zip code with one of the highest incarceration rates in the country. 
Surface parking lots in prime urban locations have long been eyed as redevelopment opportunities for communities with limited land area. Often times, a lot-line to lot-line building is dropped there, with the parking capacity being replaced by underground or structured parking. In this case, we were talking about creating a community asset that would have no tax revenue potential, and for which the City would now have new maintenance responsibilities. Obviously, there are reasons why this doesn't happen every day.  
The project still has to be approved by various City departments, so it isn't reality yet. But the point that was driven home for me had more to do with the mindset of these two agencies. The fact that we were sitting in a (virtual) room talking about stormwater runoff from mostly underutilized parking lots and considering significant scaling back of that parking capacity while also contemplating new amenities for the community got me really excited for Milwaukee's future. 
Managing Flooding in a Dense Urban Community 
Just south and west of the Historic Mitchell Street corridor, MMSD is working on an even more ambitious gray-to-green project involving the Kinnickinnic River. Flooding has long plagued the densely populated neighborhoods around the Kinnickinnic River, known locally as the KK River. The channel was concrete-lined in the 1950s, an attempt to move floodwaters downstream to the lake more swiftly.
Nearly 70 years later, the concrete is deteriorated, climate change is causing more intense storm events, and the channel no longer provides the flood conveyance capacity that it once did. The waters that rush through this neglected channel are extremely dangerous, risking lives in an already lower-income neighborhood where almost no residents have flood insurance.  
MMSD has conducted several planning efforts over the past decade to look at the root of the flooding issue and determine the most effective ways to address it while also incorporating the needs and desires of the community for safe places to recreate and gather.   
The Kinnickinnic River Corridor Neighborhood Plan, authored by SmithGroup, reflects the vision of the community for a revitalized river greenway with naturalized banks, trails, community gardens, connected dead-end streets, and natural stormwater features. The plan recommended removal of 82 structures (most of them residential) to allow widening of the river, and all but a few of those structures have since been purchased by MMSD and razed.  
But before the vision of the new KK River can be realized, the issue of the massive amounts of water that funnel into this narrow corridor must be addressed. The KK River watershed is the most urbanized watershed in the state. Because so much of its watershed is covered by impervious surfaces, the river is very flashy, meaning it goes up and down in a very short timeframe. To alleviate the flooding problems, water needs to be detained upstream. However, since the watershed is 100% built out, finding space to hold floodwaters upstream is particularly challenging.  
MMSD conducted a watershed-wide study to look at where the water could be detained, even temporarily, to flatten the peak of floodwaters that race through the densely-populated neighborhood flanking the main stem of the river. The existing parks and green space making up the KK River greenway system and its primary tributary Wilson Park Creek were identified as the optimal choice for flood storage. Primarily owned by Milwaukee County, the parks provided the largest areas of open space to hold water, minimizing the need to remove more homes or other critical tax base for the City. Plus the river goes right through them, allowing the flood storage to act like a natural floodplain rather than a stand-alone basin, which would be less effective. 
Jackson Park, a 140-year-old park full of majestic oaks and a quaint WPA-era lagoon, was identified in the planning study as the most ideal location for holding water due to its topography and location within the watershed. However, as MMSD soon realized, the oak trees and the remnants of old-growth woods that remained from pre-channelization of the river were standing in the way.  
The volume of floodwaters that needed to be held in Jackson Park would have required lowering the northern third of the park, requiring the removal of many of those beloved trees. MMSD and its consultant team needed to be a bit more creative to get approval and a green light from Milwaukee County Parks, the landowner. 
The team, led by HNTB and SmithGroup, reviewed alternative flood storage locations near Jackson Park. A lot just to the north of the park proved to be the most cost effective and feasible solution. This former office building and parking lot were standing empty on the park's northern edge, and serendipitously came up for sale. Seizing the opportunity, MMSD purchased the parcel and will raze the building and remove several acres of parking to create a massive detention basin to divert some upstream flows from entering the KK River during large storm events. 
This move allowed the volume of storage in Jackson Park to be reduced, which will save hundreds of trees and help maintain this park as a valued community asset and recreational space.
With this latest move, Milwaukee's gray-to-green movement continues on. MMSD's and Milwaukee's work provides a valuable benchmark for other cities facing similar urban flooding and water quality issues. The commitment to equity, public health, and integrated public open space also shows the much broader role and impact that green infrastructure can have in neighborhood enhancement and reinvestment.