How Will COVID-19 Influence the Resiliency of Labs in the Future?
Our Science &Technology Practice partners with a team of client advisors to continually examine the new technologies, scientific trends and economics shaping the research landscape. This partnership enables us to be optimally prepared to provide transformative programming, lab planning and design solutions. 

In the summer of 2020, as research organizations were adjusting to the "new normal" of the COVID-19 pandemic, we conducted a survey to gather data to understand the influence of the health crisis on the future of research. Data was collected from across industry sectors—academic, federal, private R&D, forensics—as a means of gathering differing perspectives.

Based on the framework of our decades-long study of the future of laboratories, known as LAB2050, we sought to test the accuracy of our previous predictions and understand which elements of the lab of the future would lose or gain relevance, and which trends would be accelerated by the long-term effects of the COVID-19 pandemic.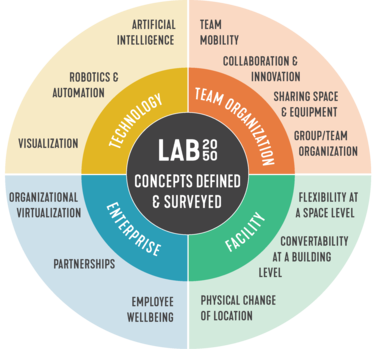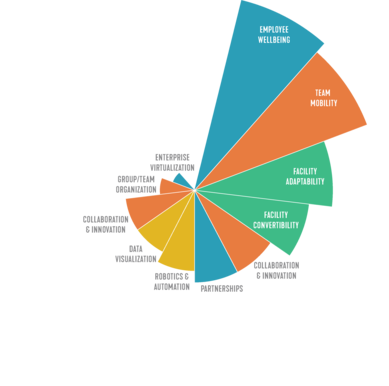 Survey Findings | Top Priorities
Our client advisors were given the opportunity to provide feedback on how these concepts are impacting their businesses as well as how they plan to respond. Their recommendations highlighted the importance of Employee Wellbeing, Team Mobility and Facility Adaptability: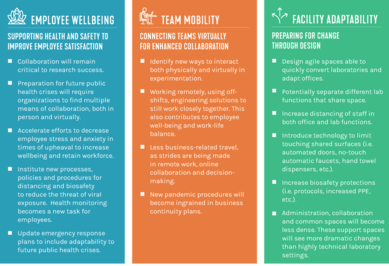 Key Takeaways
Maintain a focus on pre-pandemic priorities. Now more than ever, sustainability and resiliency strategies are critical to the longevity of research environments. 
Re-examine space programming and real estate portfolios with current and future needs in mind.
Future laboratory environments will need to support quickly evolving research and foster health and wellbeing.
To be successful, research enterprises, business continuity of operations and facility development must be agile and responsive to continuous change.
Next Steps
While the pandemic has undoubtedly changed "business as usual" for the near future, we remain focused and dedicated to extending our time horizon farther afield to understand the future impact on research and laboratory environments. With this in mind, we will conduct a follow up survey in the first quarter of 2021. Our follow-up survey will help us understand not only the immediate recovery efforts research organizations made in response to the COVID-19 pandemic, but also what long-term impacts our current health crisis will likely have on the lab of the future.