Arthur A. Dugoni School of Dentistry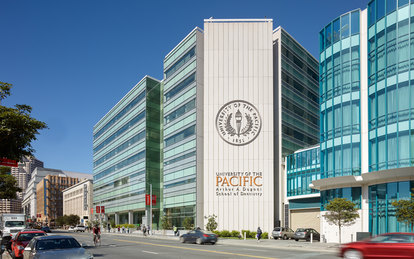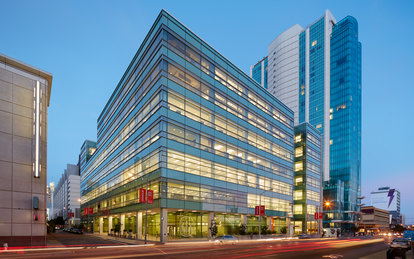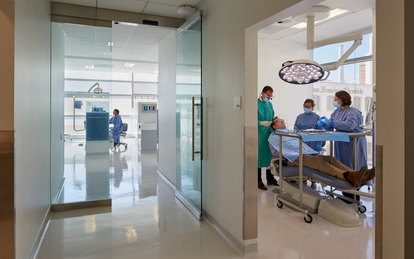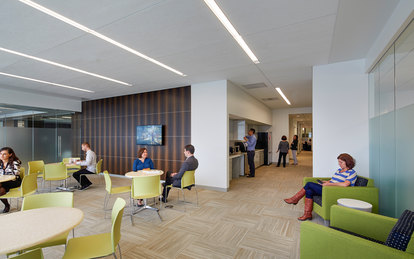 The Dugoni School of Dentistry is a single building "campus" that houses a dentistry program of 485 students and offers multiple professional programs. The project involved a total re-adaptation of the building's interior (previously used for data center purposes) into a hands-on, state-of-the-art learning environment for the dental school.
Client
University of the Pacific
Location
San Francisco, California
Markets/Services
Architecture, Health Sciences, Higher Education, Interiors, Landscape Architecture, Medical Planning, Sustainable Design
Size
395,000 SF
Consistently top ranked nationwide, the Arthur A. Dugoni School of Dentistry designed an award-winning curriculum that is focused on an active, immersive, vertically-integrated pedagogy in small clinical environments. This client needed a major interior renovation coupled with a complete renovation of the building cladding.
Within the building there are many different types of spaces that facilitate the learning process for students, including clinics, research labs, classrooms, informal collaboration space and lounges. The new campus embraces a cultural shift toward complete collaboration, disintegrating the boundaries between faculty, students, and staff. As part of that shift, faculty are moving to an open office environment not typically seen in facilities for higher education, allowing for a more efficient use of floorplate space and increasing collaboration among academic staff.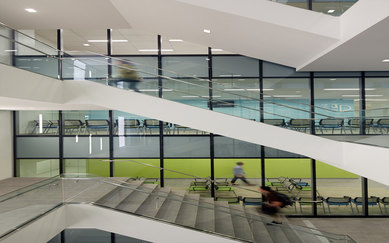 The most notable aspect of this project's adaptive reuse story was the need to incorporate highly sensitive laboratory, clinical and simulation environments into what was once a typical office building.  The simulation lab, where students begin to work on dental mannequins, mimics the design of an actual clinical practice. Rather than arrange simulation units in a linear configuration, as is current practice, the school's curriculum demanded something different. Students are organized into eighteen-member clinics, with a central space for teaching, gathering, and special projects. At each individual station, students have utilities located behind the head of the simulator "patient," a configuration that mirrors a typical clinic—unique to dental education.
The school operates outpatient clinics where more than 100,000 patient visits annually. There, students learn in clinics of 18—the same size as in the simulation lab—to mirror private dental practice. Adjacent to each clinic are small huddle rooms — classrooms where students can meet with faculty members within the clinic itself. This design feature positions learning space directly adjacent to clinical practice areas, another aspect of Dugoni's immersive curriculum represented in the building's design.