University of Michigan School of Dentistry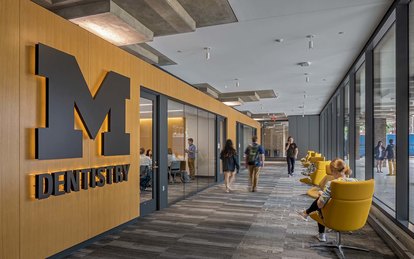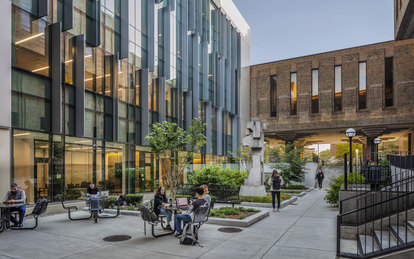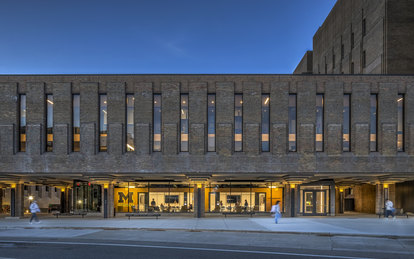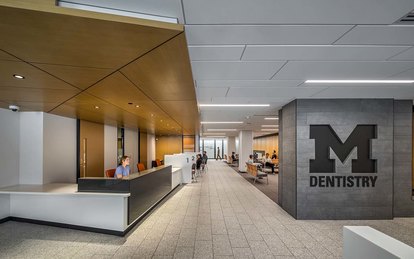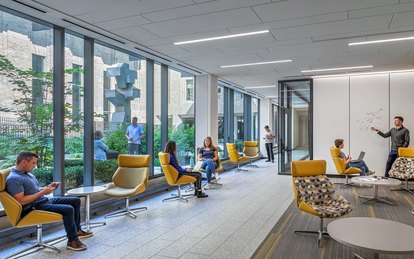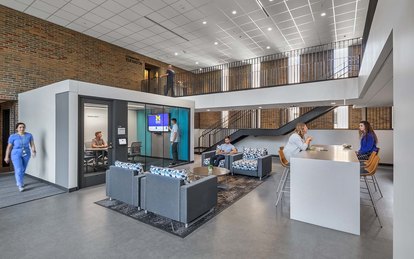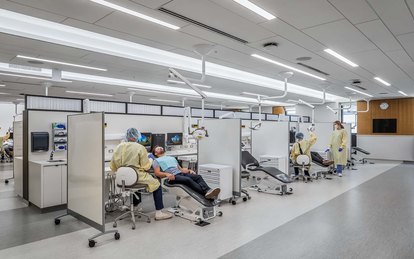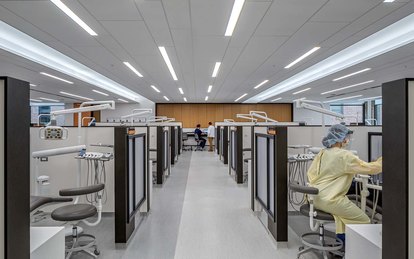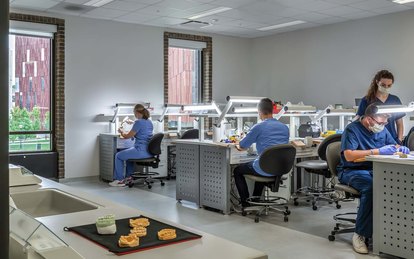 SmithGroup partnered with the University of Michigan School of Dentistry on the renovation and new addition to the school's facility with a design that helps maintain its national stature.
Client
University of Michigan
Location
Ann Arbor, Michigan
Markets/Services
Academic Research, Architecture, Civil Engineering, Fire Protection and Life Safety Engineering, Health, Higher Education, Health Sciences, Interiors, Landscape Architecture, Lighting Design, MEP Engineering, Professional Education, Programming, Structural Engineering
Size
209,000 GSF
The University of Michigan (U-M) School of Dentistry is annually a top-ranked dental school. But its existing facility was a collection of buildings from different eras, and there was a need to clarify a clear path for patients to find their way inside the complex. Furthermore, there was a big opportunity to improve the connection between the school's important research work and the rest of the campus.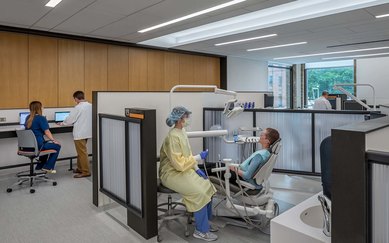 The school was looking to achieve multiple goals: improve the patient experience, renovate entrances, advance dental education, renovate the clinics and revitalize research resources. As many dental schools around the country are separating research from clinical areas, U-M was looking to do the opposite.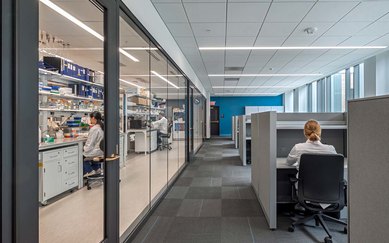 Pre-Doctoral clinics were designed to maximize existing floor area by integrating custom, wedge shaped operatories that were tailored to maximize care delivery.  
The big architectural move was taking the interior courtyard formed by various existing buildings and insert a finned, glass curtain wall research pavilion. Energy performance drove the strategic placement of the exterior fins that were positioned to capitalize on shading to reduce heat gain. This new addition rises above surrounding buildings and announces itself as a transparent and inviting place for research—a means to show clinical patients the important work being done inside. Furthermore, the new pavilion is centrally located within the existing campus courtyard, provides a new campus entry and helps unify circulation throughout the complex.
Since the new research pavilion does not take up the entire central courtyard, the design allows for two flanking, landscaped courtyards for use by U-M's dental community. Places of quiet respite in the urban campus. Most of the existing complex of buildings, including some brutalist concrete structures from the 1960s, have been renovated.