California Pacific Medical Center System-wide Integrated Facilities and Operational Master Plan
By critically assessing the efficiency of its operations and allocation of services, California Pacific Medical Center (CPMC) discovered new ways to both reduce costs and improve patient care enterprise wide.
Client
California Pacific Medical Center
Location
San Francisco, California
Markets/Services
Acute Care, Architecture, Emergency Medicine, Health, Health Strategy, Interiors, Medical Planning, Programming, Strategic & Master Plans, Women's & Children's Health
CPMC is one of northern California's largest private, not-for-profit healthcare providers. Considering ongoing healthcare reform, CPMC embarked on a major effort to reexamine the technical and operational capabilities of its five medical campuses in San Francisco, seeking ways to use its resources more effectively while continuing to provide high quality healthcare. 
CPMC partnered with SmithGroup to analyze the needs of its patients and use of its facilities city-wide. Through hundreds of user workshops, focus groups with physicians, operational workload studies, and market and demographic analyses, the study revealed that CPMC could significantly improve efficiencies by reallocating its services across the system, and optimizing departmental organization and patient flow within each facility.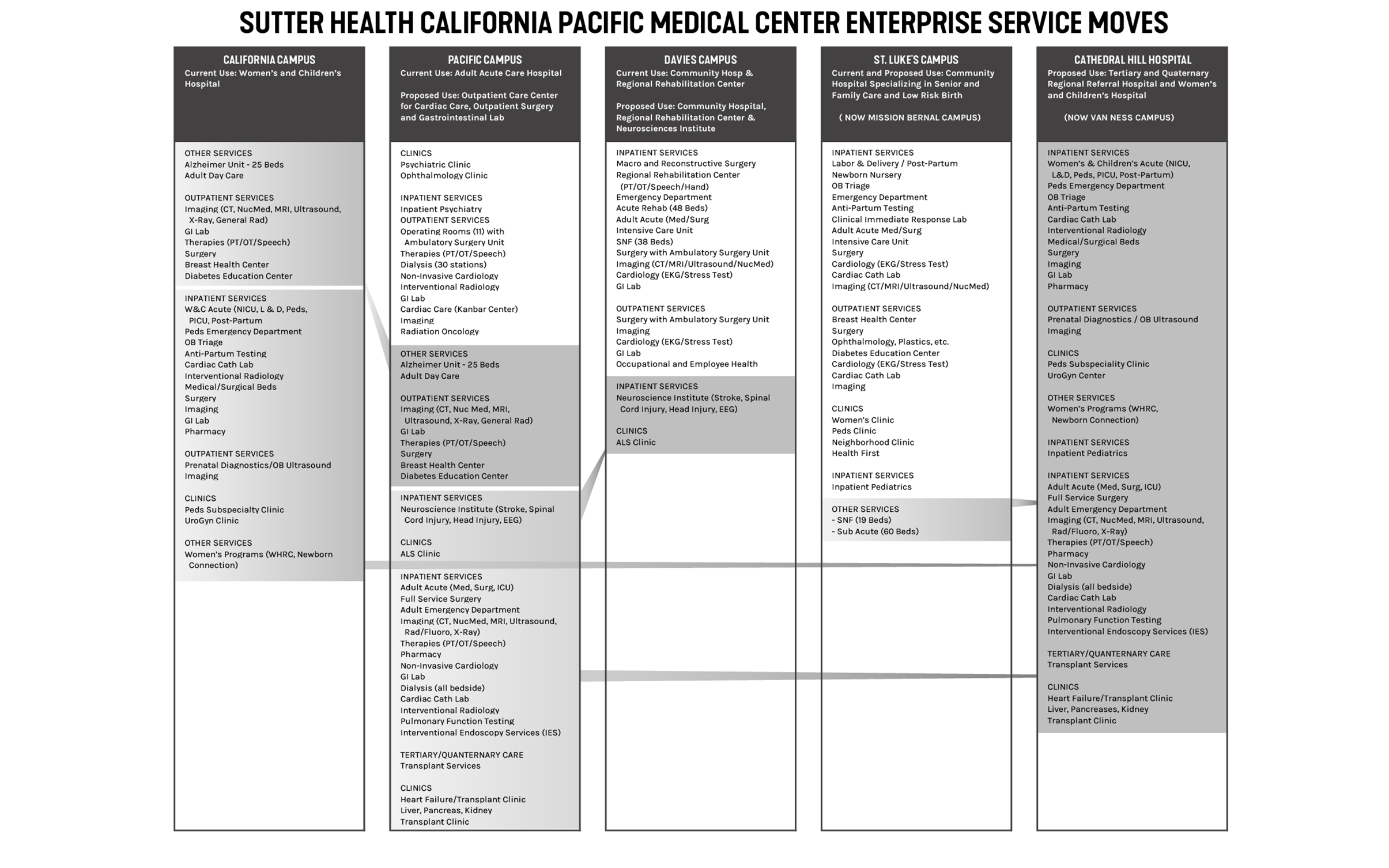 The strategic plan led to the closure of three hospitals and the creation of two replacement hospitals: Mission Bernal Campus, a 120-bed community hospital, and the new flagship Van Ness Campus, which integrates adult, women and children's inpatient care in a 'hospital within a hospital'. Now serving as the tertiary and quaternary hub for all CPMC's facilities city-wide, the 1.015-million-square-foot Van Ness campus provides a highly efficient super block of medical care on a constrained urban site. CPMC's two other campuses were reconfigured to provide specialty acute care and added outpatient services for the network.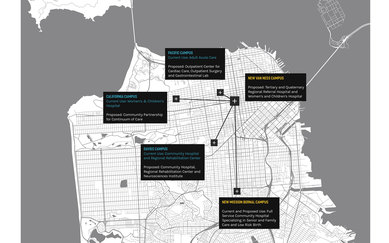 Operational and process studies led to a plan that breaks down traditional boundaries in favor of an integrated services platform that improves workflow and enhances patient care. At the same time, it reduces the overall space needed; the Van Ness hospital occupies 32 percent less area than the hospital functions it replaced. The Mission Bernal hospital was planned with thirty percent less overall facility space per bed than would have been possible in a traditional hospital scheme. 
This re-distributed system improves operational efficiency and reduces costs by removing outpatient and logistical support functions from the high overhead of a hospital facility. A new technology backbone integrates regional patient care, improves patient flow, and allows for system-wide access to test results and other care information. Improving both efficiency and quality of care, the new CPMC system is a model for responsive community-based healthcare. The result is a complete system of care within an urban and campus planning context, implementable from a project delivery point of view, and sustainable from a business plan/proforma perspective.