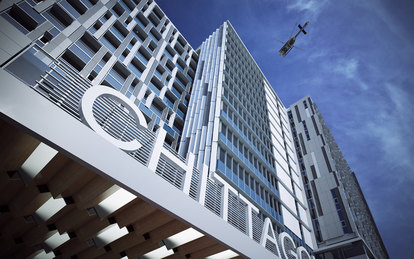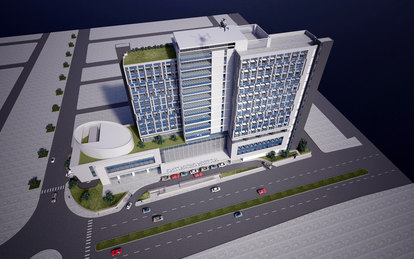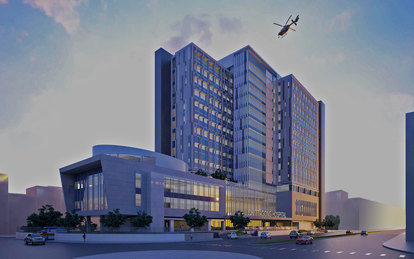 The design of the new Chittagong Hospital is a landmark building that addresses the country's high demand for quality healthcare in this region. The result is an impressive building design with compact and clear functional solutions that not only meet international hospital standards and local building codes but provides a much needed service for the community.
Location
Chittagong, Bangladesh
Markets/Services
Architecture, Acute Care, Ambulatory Care, Health
Size
366,000 GSF, 34,000 M2
The city of Chittagong is a major coastal city in southeastern Bangladesh. With a population of over 2.5 million people, Chittagong is the second largest city in the country. Despite this, residents must travel to the capital city of Dhaka, or to another country, to seek major medical treatments. The STS Holding's Chittagong Hospital serves as the first tertiary, multi-specialty hospital in this region.
Our team used our prior experience with this client on the design of the STS Holding's Dhaka hospital to understand the cultural context and space standards for this 348-bed hospital. The design required a sensitivity to the climate, as well as a clear understanding of expectations from the Hindu, Buddhist, Christian and Muslim communities the hospital serves.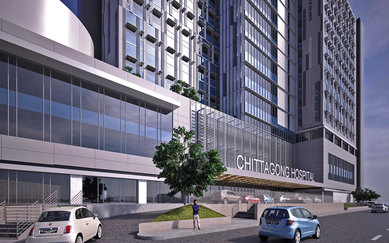 From segregated entrances to controlled internal circulation, our team was able to achieve clear wayfinding and spatial performance comparable to U.S. standards in about half the square footage per bed. The solution was found in the precepts of Charbagh — a Persian garden design employed most famously at the Taj Mahal —which was used to define circulation and create clear organization between departments.
The public and patient spaces needed to be big enough to accommodate large numbers of patients and their families. The 11-story inpatient tower is support by a three-story podium and includes outpatient clinics, underground parking, a rooftop helipad, roof gardens, and 'sky gardens' on each floor. Despite the unusually narrow site, the vertical solution accommodates the program of a state-of-the-art tertiary hospital. Most importantly, SmithGroup's design achieves the hoped-for accreditation standards while remaining responsive to the realities of a developing country.