Henry Ford Cancer Institute, Brigitte Harris Cancer Pavilion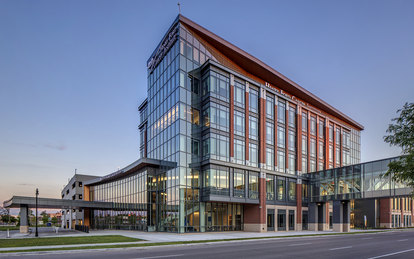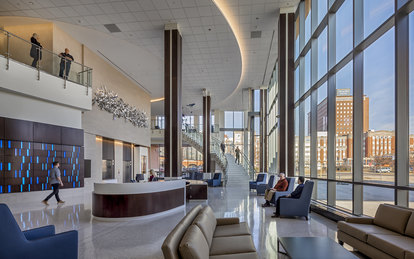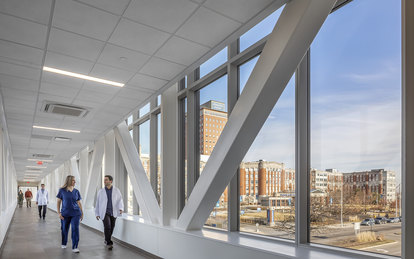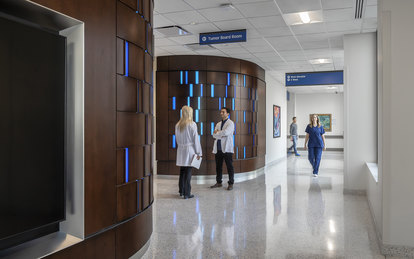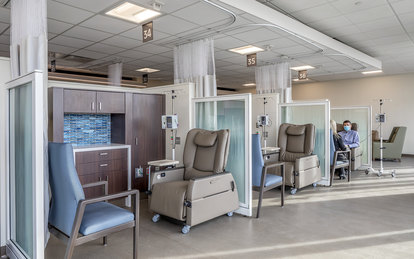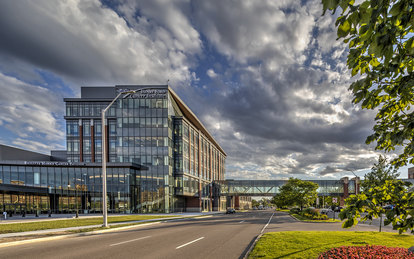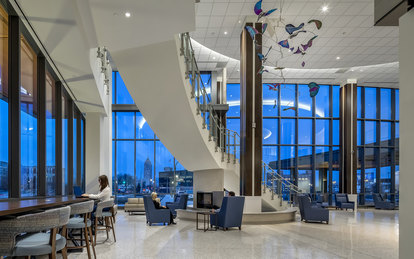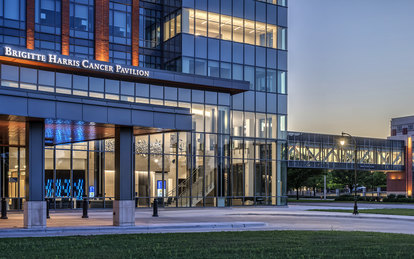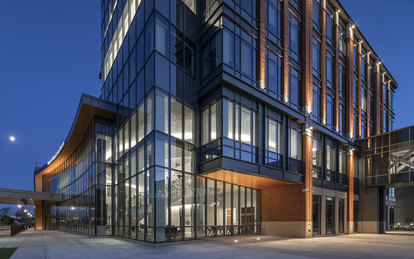 The Brigitte Harris Cancer Pavilion is a new global destination center for outpatient cancer treatment, precision medicine, clinical trials and research, and enhanced support services including wellness and integrative medicine. It is designed to create a truly seamless experience that is unique to each person's cancer journey.
Client
Henry Ford Cancer Institute
Location
Detroit, Michigan
Markets/Services
Health, Cancer Care, Ambulatory Care, Interiors, Landscape Architecture, Lighting Design, Medical Planning, MEP Engineering, Structural Engineering
Size
187,000 sf
The quest to help those in need of cancer care has been an ongoing mission of the Henry Ford Health System. In honor of his late wife Brigitte, philanthropist Mort Harris donated $20 million to the Henry Ford Cancer Institute (HFCI) to build a new world-class cancer care center that will help advance that mission. SmithGroup partnered with Henry Ford to bring this building to life through future-forward design.
The project is defined by five themes: confidence, hope, innovation, humanism, and healing. SmithGroup planners and designers immersed themselves in the world of cancer care to ensure that the architecture of the Brigitte Harris Cancer Pavilion would stand as a powerful symbol, showcasing the advanced medical care the institute provides while creating a tranquil environment for patients and their families.
The building is sited across West Grand Boulevard from the main institute, connected by a glass bridge. A six-story glass tower anchors the building and serves as a beacon of confidence and hope. The tower is slightly inflected and topped off by a metal brow that makes the building easily distinguishable within the surrounding New Center historic district. Flanking the tower are forms of brick, limestone, and glass that relate to the institute's older buildings.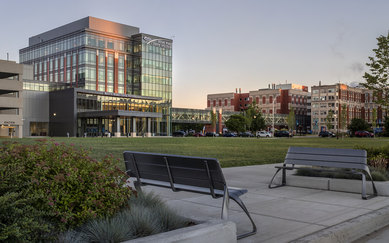 Innovation and humanism come alive through a two-story lobby wing defined by a C-shaped surround, forming a welcoming, uplifting entrance. Inside, the lobby features a curving, monumental stairway that leads to an intentionally visible Tumor Board Room, a collaboration area where doctors and other practitioners discuss treatment strategy with specialists around the world.
Healing is implemented in a three-story oncology, infusion, and diagnostic wing, which offers some of the most advanced therapy options, including stem cell transplant and cellular therapy. Inside, disease-specific exam and consult rooms have ample space for patients, their families, and their care teams. State-of-the-art radiation therapy includes a world-first MRI-guided linear accelerator and advanced radiosurgery. The infusion center is designed with floor-to-ceiling views, and a rooftop terrace garden offers respite for patients and visitors.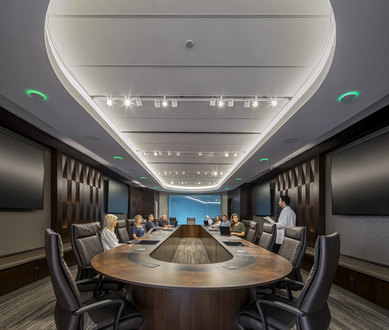 A key aspect of the care model is that physicians, specialists, and surgeons work together, bringing care and services to the patient rather than patients having to move from department to department. Nurse navigators, trained in specific cancer types, manage each patient's experience and assure that it is seamless, while precision medicine and clinical trials offices connect patients with the most advanced, personalized care. The pavilion also supports integrative medicine programs such as nutrition and wellness planning, counseling services, patient and caregiver support groups, yoga classes, and music and art therapy, as well as an urgent care center for medical concerns specific to the needs of cancer patients.
Just as Henry Ford revolutionized manufacturing, the organization named after him continues to advance cancer care with gene therapy and other innovations. The Brigitte Harris Cancer Pavilion not only embodies these advances, it is also emblematic of a resurgent city that is reinventing itself for the future.