Scripps Health Executive Architect and Strategic Facilities Master Plan
San Diego's largest healthcare provider embarks on an ambitious plan to guide its next 50 years: a comprehensive effort to integrate system-wide standardization and efficiencies, create more patient-centered environments and develop space programming services unifying three medical campuses.
Location
Multiple Locations
Markets/Services
Acute Care, Ambulatory Care, Architecture, Cancer Care, Emergency Medicine, Health, Health Strategy, Programming, Strategic & Master Plans, Women's & Children's Health
One of the leading healthcare providers in the San Diego metro area and one of the largest healthcare delivery systems in the nation, Scripps Health was facing increasing competition and a state mandate to seismically upgrade all its facilities by 2030. The organization turned these challenges into an opportunity: to transform the health system with upgraded facilities, integrated system-wide efficiencies, and more patient-centered environments that will prepare it for the next 50-plus years of success.
SmithGroup serves as the executive architect for this substantial undertaking, beginning with a strategic and facility master plan that will encompass new construction, renovation of compliant facilities, and seismic upgrades to existing non-compliant buildings, executed concurrently across Scripps' major campuses for the next 30 years. The effort began with an intense, three-month strategic realignment process that defined planning criteria and standards system-wide.
While the strategy encompasses all five campuses, the top priority was to improve the space planning and programming for the three  hospitals—Memorial Hospital in La Jolla, Mercy Hospital in San Diego, and Memorial Hospital in Encinitas—that anchor the system's services. Each campus has differing strengths and weaknesses, and specific program requirements and facilities in various states of use and age.
In less than a year, the team shepherded this enterprise master planning process through to completion. The final master plan requires 100,000 square feet less than had been initially assumed while leaving "empty chair" flexibility for future expansion at each campus. Architects have been selected for implementation projects and are moving forward with design—a remarkable achievement given the complexity, scale, and compressed time frame. SmithGroup will continue in the Executive Architect role to provide continued program refinements and design peer review.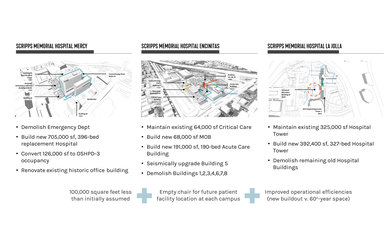 Scripps Mercy San Diego. Includes replacing the existing acute care building with a new 710,000-square-foot, seismically sound tower featuring 12 stories above ground and three below. Most of the rooms in the hospital will be private.
Scripps Memorial Hospital La Jolla. Includes constructing a new seven-story, 401,000 square-foot hospital tower featuring a women's health center, housing labor and delivery, postpartum beds, a nursery, obstetrical surgery area, and a neonatal intensive care unit.
Scripps Memorial Hospital Encinitas. Includes constructing a new 185,000-square-foot, three-story acute care building. Other campus projects include a new three-story, 68,000-square-foot medical office building, upgrades to the central energy plant, and seismic retrofitting of several other buildings.
The enterprise master plan standardizes equipment procurement, energy and engineering infrastructure, and operations across the system. The master plan also includes the construction of two Scripps MD Anderson outpatient cancer centers. In addition, Scripps will continue to focus on providing the right care in the right setting by increasing access to outpatient care conveniently located in neighborhoods where patients live and work.