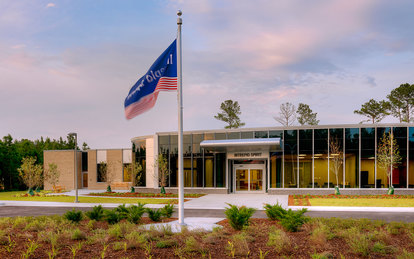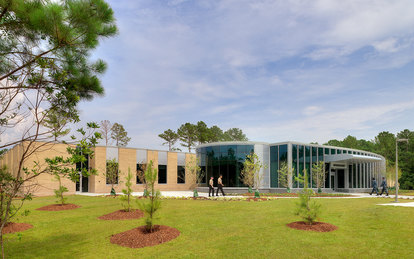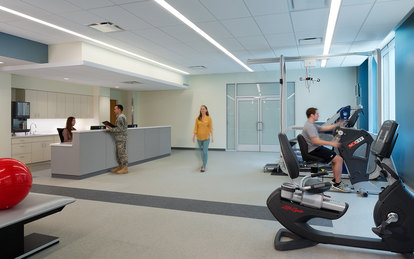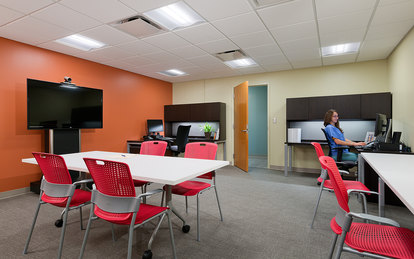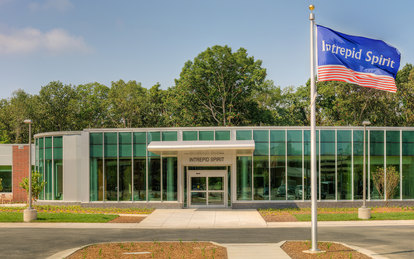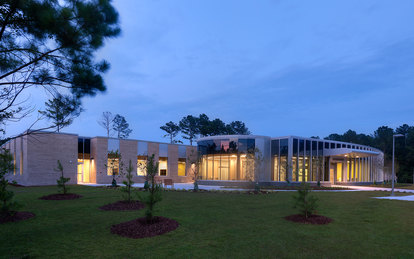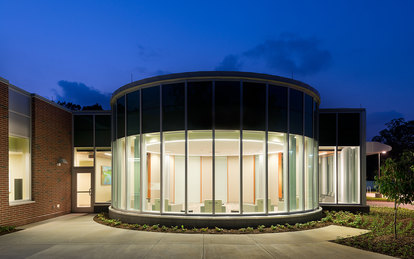 When it opened at Walter Reed National Military Medical Center, the National Intrepid Center of Excellence (NICoE) became the world's most advanced treatment and research center for traumatic brain injury (TBI) and psychological health conditions. After its success, the NICoE served as the prototype for a network of satellite clinics located on military bases around the country. Designed to extend care to the soldiers' home base, these satellites, or Intrepid Spirit Centers (ISC), now function as a new nationwide health system, establishing core mission protocols and conducting coordinated, multi-site research and improvements to the rapidly evolving model of TBI care and rehabilitation.   
Client
Intrepid Fallen Heroes Fund
Location
Multiple Locations
Markets/Services
Ambulatory Care, Health, Rehabilitation
The NICoE and its satellites have been developed as a public-private partnership. The Intrepid Fallen Heroes Fund, a non-profit entity, raises funding and manages the design and construction; each center is then turned over to the Department of Defense for operation. Each ISC is based on a standardized template developed by SmithGroup, which provides a similar layout and appearance while allowing the design to be customized to each base and regional character. A continuous improvement process carries through as each ISC iteration is planned, designed and built. The template's built-in flexibility supports an evolving clinical model and best practices as well as provide design and construction efficiency, speed to market, and cost control and predictability.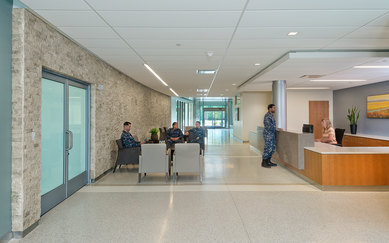 The NICoE acts as the translational research hub for the Intrepid Spirit network. Experimental procedures and new protocols are shared among Bethesda and the eight ISCs built to date (with two additional locations planned). A consistent program accommodates the interdisciplinary model of care originally developed at NICoE, which brings multiple clinical disciplines together under one roof.  Each ISC includes an integrated clinical intake space where patients meet with their interdisciplinary team; a "central park"—a multi-purpose space for mind-body wellness; a therapy gym with views of nature; sleep lab; family respite room; and a therapy patio for multi-terrain rehabilitation.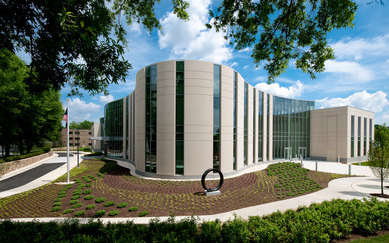 Patients with TBI can manifest many different symptoms, including physical and cognitive issues such as headaches, difficulty concentrating, memory loss, and vision, hearing and balance changes. They may also exhibit mental health symptoms such as poor judgment, inflexibility, depression or anxiety. The interdisciplinary model of care practiced at NICoE and the ISCs allows multiple medical disciplines to address these issues collectively. Clinical and other professional services involved in treatment include neurology, nutrition, physical therapy, speech and hearing therapy, psychiatry, occupational therapy, speech pathology, neuropsychology, ophthalmology, and nursing, among others. Experts provide specialized care using traditional methods, such as neurological exams, physical therapy and sleep studies, combined with integrated health treatments, including acupuncture, yoga, mindfulness, and art and music therapy. This model has shown a 92% return to duty rate and a patient satisfaction rate of 99%.
The Intrepid Spirit Centers demonstrate how a template design approach can provide the flexibility to support an evolving model of care. They are also a symbol of a successful public-private partnership that has worked together to facilitate the rapid deployment of advanced medical facilities to heal the brave men and women serving our country.