Templating Enables Rapid Creation of a New System of Care
At the 2019 Healthcare Design Conference + Expo in New Orleans, Louisiana, SmithGroup presented its extensive work developing the Intrepid Spirit Centers, a new network of care within the military health system. The presentation was led by Matthew Reiskin, AIA, LEED AP BD+C, Senior Project Manager and Principal, and Lou Posada, Senior Medical Planner and Principal. They were joined by Dr. Thomas Piazza, retired Air Force Colonel and Director of the Intrepid Spirit Center at Eglin Air Force Base, Florida. This article summarizes insights from that presentation.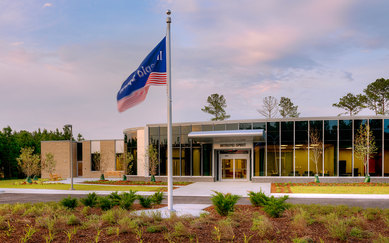 Creating a National Network of Care
The hub of this new network is the National Intrepid Center of Excellence (NICoE), built in 2009 at the Walter Reed National Military Medical Center in Bethesda, Maryland. The world's most advanced treatment and research center for traumatic brain injury (TBI) and psychological health, the NICoE became the prototype for 10 satellite clinics that have been built or are planned at military bases around the country. Designed to extend care to the home base of many of the troops suffering the effects of TBI and PTS, these satellites, or Intrepid Spirit Centers (ISC), deploy with a templated design which enables a universal care standard and speed to market. They now function as a new nationwide healthcare system, establishing core mission protocols and conducting synchronized multi-site research and improvements to the rapidly evolving model of TBI care and rehabilitation.
The impetus for this system of specialty clinics, the first such network of its kind in the world, was born from the wave of TBI and PTS patients coming back from recent wars abroad. This is especially true of service men and women that have survived improvised explosive devices (IEDs) in the past two decades. Their physical wounds may have healed but the invisible wounds remain. That is where the NICoE system hopes to play a healing role.
The product of a partnership between SmithGroup and the Intrepid Fallen Heroes Fund, a non-profit that has committed to raising the necessary funding and managing the design and construction of the NICoE and ISC network. Once completed, each facility is then donated to the Department of Defense.
Each Intrepid Spirit Center is approximately 25,000 square feet and costs roughly $11–$14 million to build and equip. The centers are designed around the interdisciplinary model of care first developed at NICoE, which brings all disciplines together under one roof.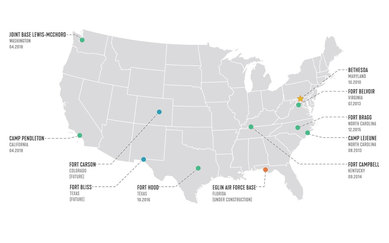 Patients with TBI can manifest many different symptoms, including physical indicators, such as headaches, difficulty concentrating, memory loss, irritability, mood swings, vision, hearing and balance issues. They may also exhibit mental health symptoms, such as verbal or physical outbursts, impulsive behavior, poor judgment, inflexibility, depression or anxiety. The Intrepid Spirit Center model of interdisciplinary care permits all medical disciplines to address these various issues together.
Clinical and other professional services involved in treatment include: neurology, nutrition, physical therapy, speech and hearing therapy, psychiatry, occupational therapy, speech pathology, neuropsychology, ophthalmology, and nursing, among others. Experts provide specialized care using traditional methods, such as neurological exams, physical therapy and sleep studies, combined with integrated health treatments, including acupuncture, yoga, mindfulness, art and music therapy.
The NICoE and the Intrepid Spirit Centers are now able to provide nearly 50% of all TBI-related care encounters across the military health system. Roughly 80% of this care is delivered to active duty service members, and for some Intrepid Spirits Centers, this is their only demographic. Most patients show improvements in the majority of symptoms they present with as well as the quality of their life. NICoE and the Intrepid Spirits have shown a 92% return to duty rate and a patient satisfaction rate of 99%.
Planning Flexibility
Each ISC clinic is developed on a standardized template, which provides a similar layout and appearance while allowing the design to be customized for its home base and regional characteristics. The templates built-in flexibility supports an evolving clinical model and best practices, design and construction efficiency, speed to market, and cost control and predictability. One key aspect of the template is that it allows future growth as the programs in the center expand and evolve: future wounded warriors may need different services and the template interior can be reconfigured easily while not limiting future building expansion.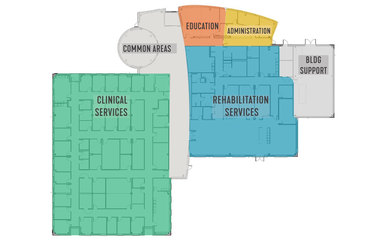 Each Intrepid Spirit Center incorporates:
Intake/clinic area: psychiatric testing, chiropractic treatment, acupuncture, testing rooms and exam rooms.
Physical therapy: open gym layout with physical therapy equipment including adjustable mat tables, parallel bars, treadmills, alter-G gait trainer and other therapy tools.
Sleep lab: sleep room equipped with a sleep system and ambient therapy music plus a control room with computer monitoring system.
Central Park: a multi-purpose environment to support physical therapy and family activities within a natural setting of trees, shrubs and water elements.
Family room: a reprieve space for patients and family members to spend time together while taking a break from the clinical treatment regime.
As each ISC clinic is planned and brought online, an iterative design process ensures that every project completed informs the next, using lessons learned through post-occupancy evaluations. This systematic approach allows individual satellites to align and renovate its care models with the main NICoE hub at Bethesda, which acts as the main translational research facility. The template is not fixed but provides a baseline starting point. Clinical staff at each location are able to collaborate with the design team to tailor the building to the needs of their particular patient population as well as hone their operations with the final design. It also allows the design team to fold in their collective knowledge, implementing improvements and lessons learned from each preceding center.
An Evolving Design
The conference audience was curious as to a number of design changes that occurred from year to year. While the basic template may change little, some features took on a greater focus.
The entry sequence, for example, includes a curving entry and this was accentuated further with a circular skylight that came to define later iterations of the Intrepid Spirit Centers. A large, multi-purpose space, which emulates the "Central Park" feature of the NICoE, is a focus point for yoga, events and other gatherings at the center.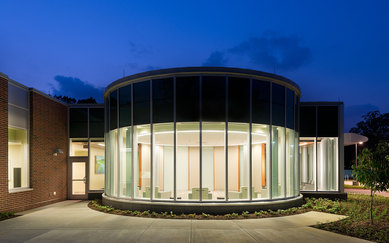 As each building is located at a different military installation, the prototype allows for a mix of materials to blend into the site context. This also helps control cost and ensures speed to market without getting overly complex. The reinforced building assemblies, meant to meet the client's anti-terrorism and force protection (ATFP) requirements, are standardized as well.
Simple yet impactful design elements differentiate one site to the next. A sail-shade structure for the hotter locations across the US allows outdoor spaces to be used more often while not significantly slowing down the design and construction process. The brick color may change to fit base standards and glass color changes depending on solar intensity and mechanical requirements.
A Constellation of Care
As each center comes online, both the model of care and the design template evolve. Both go through an iterative, joint process improvement/post-occupancy regimen as each center is built. The beauty of the system is the feedback loop that improves the design of each successive facility and the model of care across all of the Intrepid Spirit Centers.
The iterative process for each ISC is set up to engage stakeholders at every site in an equitable manner. Each month, SmithGroup participates in the centers' Leadership Calls, hearing from staff from across the country on what is and isn't working in their facilities. This is an unprecedented level of real-time post-occupancy feedback that helps inform the design template for future projects.
While the eight operating Intrepid Spirit Centers continue to build the knowledge base and exchange information as a network, the next chapter of the Intrepid Spirit Centers are being written; design and construction of the Centers #9 and #10 are underway, with another planned for the future. These centers will continue to evolve the design to better meet the needs of our service members and enhance the overall network of care, both now and into the future.