OSSE & DISB at Sentinel Square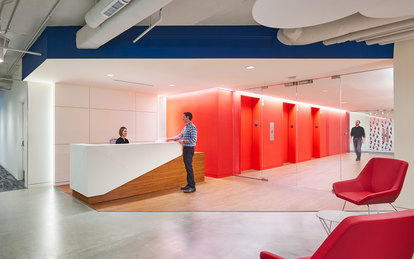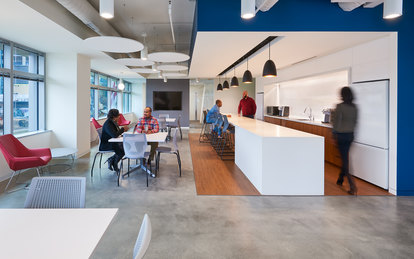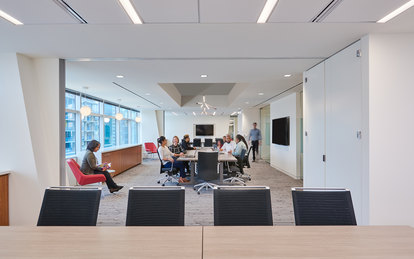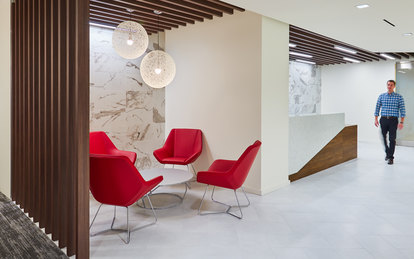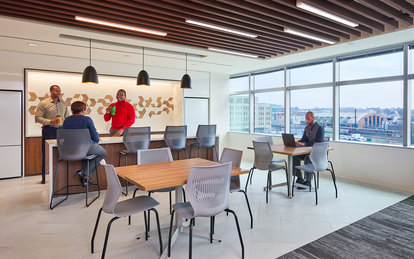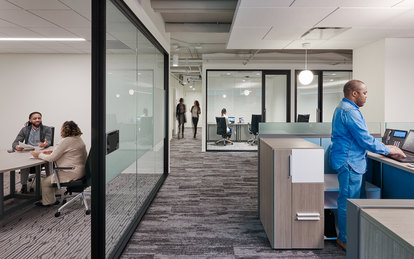 An example of how thoughtful interior planning and design can shape an environment, two government clients in the same building each get a workplace that reflects their very different character and needs.
Client
Office of the State Superintendent of Education & Department of Insurance, Securities and Banking
Location
Washington, D.C.
Markets/Services
Architecture, Government, Government Office, Interiors, Programming, Workplace
Size
168,000 SF
When two different District of Columbia government agencies made plans to move into a 12-story, multi-tenant building in the popular NoMa neighborhood of Washington, DC, they each turned to SmithGroup to design their new offices. As the designer of the original Sentinel Square base building, SmithGroup created distinctly different workplaces for each agency, repurposing what was originally designed as federal office space.
The Office of the State Superintendent of Education (OSSE) was eager for a more open and collaborative workplace, one with a fresh, vibrant palette that reflects its role guiding K-12 education. Many OSSE office users were not routinely at the workplace; they needed an occasional base and place to collaborate, rather than a permanent office presence. So interactive areas make up about 80 percent of the workplace, which occupies two floors, with a variety of seating areas along the windows on the exterior of the floorplate. Quiet work areas and glass-fronted offices are concentrated along the interior.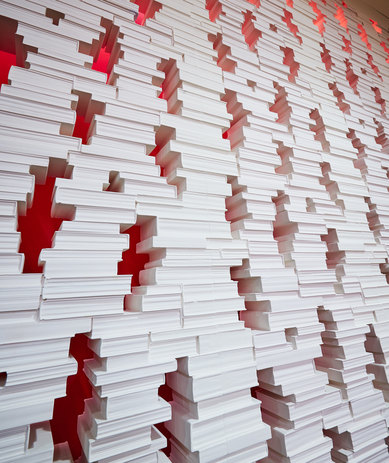 The building's first floor, originally intended for retail, houses a large OSSE conference/multi-function center. A street entrance accommodates the public for the many events OSSE hosts here, while maintaining the security of the building's lobby for tenants only. The first floor also features a training room shared with the other DC agency in the building. Other OSSE amenities include hoteling space for employees, training rooms, a large, shared pantry, and a vending area.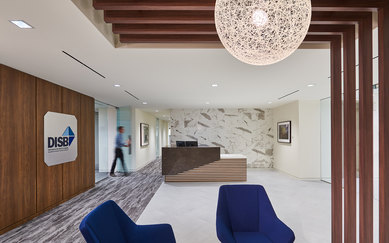 The other DC agency in the building, the Department of Insurance, Securities and Banking (DISB) occupies two floors in the same building. While the floorplate is identical to the OSSE offices, the client needs were considerably different. DISB preferred a serene environment with an emphasis on quiet, private workspaces. About 80 percent of the space is devoted to individual offices, with a subtle palette and more traditional furnishings.