St. Jude Chili's Care Center, Integrated Patient Care and Research Building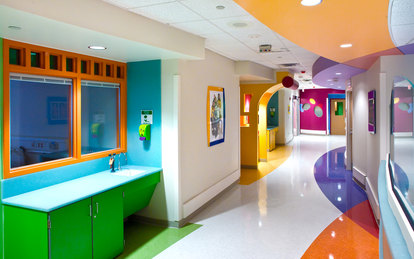 For its first-ever facility combining research and clinical care settings, St. Jude engaged SmithGroup to create a home for treating children with cancer and other catastrophic childhood diseases. The next-generation, vertically integrated facility for translational research promotes multidisciplinary collaboration to serve critically ill children. It is designed to support the spirit and commitment with which the St Jude team has served their community since the beginning: the patient comes first, their care-partners (family and staff) are supported; and a circle-of-care is created.
Client
St. Jude Children's Research Hospital
Location
Memphis, Tennessee
Markets/Services
Women's & Children's Health, Translational Health Sciences, Cancer Care, Urban Planning, Health, Acute Care, Science & Technology
Size
344,900 GSF | 32,042 M2
This bench-to-bedside approach is one of the first of its kind in clinical research. With clinicians and researchers co-located in the same tower, St. Jude is able to better facilitate collaboration and translation into clinical outcomes. A system of modular, interchangeable clinical and research blocks allows for maximum flexibility, while an innovative horizontal and vertical circulation design separates the flow of patients, visitors and staff, reducing the chance of infection for immunosuppressed children. The facility also accommodates the most advanced diagnostic imaging and radiation therapy capabilities, including houses the most powerful medical cyclotron available—the first one of its kind installed in the United States, and the only one of its kind solely dedicated to producing radioactive tracer molecules for pediatric treatment and research.
In designing the child-centered interior layout, SmithGroup asked the patients and their parents to guide us. Designed for a minimum 45-day stay, the nursing units have a spacious family room adjacent to each patient room, rather than shared family support spaces—a significant evolution of the current standard of care at St. Jude and other pediatric hospitals. Amenities that were most important to patients and parents—views to the outside, internet access and Wii game consoles, the ability to sleep in the same room as their child, a private parent bathroom with shower, and access to laundry facilities—were also incorporated into the new units. Staff wishes, such as a full clean-room pharmacy and key support services located on the unit floor, have helped in creating better workflow and communication among the multidisciplinary care teams.