For more than 30 years, SmithGroup has focused on design for the aging, becoming a trusted adviser to senior living owners, operators, and developers across global markets. With this experience comes the ability to help shape the next generation of senior living environments. As industry leaders, we have pioneered many of the trends and innovations in modern senior living communities, from active aging and memory care to multi-generational concepts. Our interdisciplinary teams offer a fully integrated approach to design and development.  This includes an extensive portfolio of healthcare projects, including rehabilitation centers, ambulatory care clinics, complex acute care hospitals, and specialized healthcare spaces designed to meet the unique needs of an aging population. We work to incorporate design for aging into all our studios and markets, so that every patron, user, and resident can thrive in our spaces.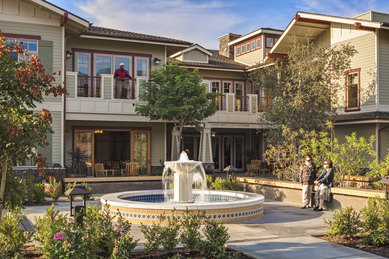 We believe senior living communities must be vibrant and inspiring. We are passionate about creating communities that emphasize holistic wellness, where residents can be supported through all levels of care and rehabilitation; a place where they can live life to the fullest, and sustain a rewarding life; and most importantly, a place they can truly call home.
Our designs engage residents and build community. Our innovative responses are human-centered, emphasizing choice, independence, and quality of life.