后疫情时代的地产业恢复战略:借力一键式开发加速转化医学发展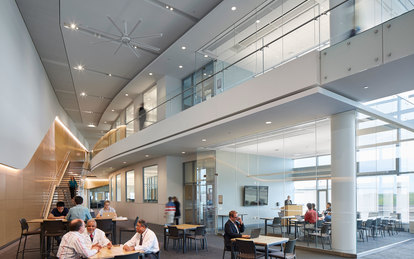 The COVID-19 pandemic has had an enormous impact on our everyday lives, affecting every industry and market sector in some way. The healthcare and life science sectors have been impacted substantially, as healthcare workers concentrate on caring for the sick and researchers focus on studying this new pathogen, testing effective treatments, and developing a vaccine. These sectors have always been interconnected. Research drives the future of care, and emerging care needs drive directions for future research and drug development. 
This pandemic has highlighted the value of deliberate physical interconnection between the life science and healthcare sectors, specifically translational research and care delivery. Many healthcare systems will be left financially unstable from this crisis, with limited availability of capital to fund purpose-driven translational research facilities, as well as much-needed real estate improvements to support new operational protocols. Rebuilding—in every sense of the word—will take time, money, and a willingness to implement untraditional strategies.
Translational Models Can Support Unknowns
As many life science companies have done, there is new potential for health systems to forge deeper partnerships with real estate development companies. In doing so, hospitals can manage capital risks and expedite the delivery of translational spaces that will help overcome future pandemics more nimbly. Two New England-area healthcare providers recently shared that, because of the flexible nature of their translational facilities, they were able to more quickly convert ORs to ICUs, adapt labs to sterilization spaces for N-95 masks, and repurpose spaces for patient testing, waiting, and staff respite and recovery. In short, the flexibility and adaptability goals with which translational research facilities are designed have allowed for more rapid and efficient conversions to support the many demands of caring for COVID-19 patients. This model works as effectively in crisis to combat highly infectious disease as it does for new diseases such as novel forms of cancer. It is a facility model designed to easily pivot to meet unknown needs.
COVID-19 has emphasized the gap that exists in institutional proximity between the clinic and the lab. Turnkey development real estate strategies, as a means to fund and expedite the growth of translational care facilities, offer many benefits in addressing that gap. Brian Carlisle is a principal and founder of Celera Properties, a real estate investment, development and advisory firm dedicated to the health and wellness market. He sees a "big opportunity to use real estate to solve real-world problems." He shares that right now "there's a high level of interest in the institutional investment world to find ways to put money to work and invest dollars in healthcare partnerships."
For hospitals, space is created to suit a specific purpose: surgery, inpatient care, cancer care, ambulatory services. But for developers, space is the purpose. For a potential partnership to work, developers must be confident in the demand for their product before taking on risk. Hospitals must be confident that a developer will understand and meet their functional and operational requirements. While other development strategies may be more common, there are advantages of turnkey models worth exploring to help healthcare real estate to recover, so that providers can deliver other critical care needs outside of COVID-19 more quickly.
While other development strategies may be more common, there are advantages of turnkey models worth exploring to help healthcare real estate to recover, so that providers can deliver other critical care needs outside of COVID-19 more quickly.
Development Options
Turnkey development involves an owner delivering a move-in-ready space to a tenant, absorbing the initial capital (construction) costs. Rent revenue helps developers recoup the cost over the lease duration. Turnkey projects can be delivered in many creative ways. However, two tend to be most suitable for healthcare and research environments: a build-to-suit project where the tenant is directly involved in the space planning and design, or a speculative project where the developer delivers a completed space before a tenant is involved. A decision on which model to pursue depends on the developer's business goals, market positioning, and sometimes conversations with prospective tenants. Creating fully complete, speculative space is a high-risk proposition that can only be offset with carefully considered strategy and market conditions.
Build-to-Suit Development
We've seen build-to-suit development models for healthcare and life science operate successfully within Boston's urban core, as well as in proximate suburban markets such as Burlington and Watertown. This model creates a mix of other synergistic tenants in healthcare, diagnostics, and life science: a developer-driven, deliberately tenanted translational medicine ecosystem. Developers who purchase and improve upon stabilized assets or facilities operating with low risk and steady rent income are well-positioned to serve prospective healthcare and research tenants. The long-term lease agreement and accelerated custom build-out process are amenable to both tenant and landlord. Architectural and MEP infrastructure are already in place to support a variety of tenant needs. While the developer is often the decision-maker on cost and quality of finish, many build-to-suit turnkey development projects are very collaborative endeavors. Both the developer and tenant enter into the agreement as partners in each other's success.  
Whether it's a ground-up or adaptive-reuse effort, Carlisle notes that "a full build-to-suit building is sometimes the right solution. If a healthcare system can serve as an anchor tenant for a building that is 50% speculative, they can leverage their majority tenancy to invite more co-location of real estate aligned with their interest."
Speculative Models
Speculative turnkey developments may also offer additional benefits for hospitals. While the tenant is not involved in the build-out and thus must accept a space 'as-is', a properly executed speculative project will be built with flexibility in mind to accommodate a wide range of uses. For example, a laboratory support room may be initially built as a tissue culture room but is also fit out to support a much wider array of future uses. The prime benefit to a hospital or research tenant in this scenario is that the space is essentially ready for immediate use—ideal for dry or wet bench research, critical diagnostic functions, office space, exam or light procedures—once the decision to lease is made, leveraging a speed-to-market mindset that is rarely seen with traditional institutional construction projects. In addition, healthcare systems are spared the substantial initial capital outlay and some ongoing building operations costs. That risk is mitigated by the developer.
Nan Fung Life Science Real Estate (NFLSRE), a subsidiary of Nan Fung Group, a Hong Kong-based property development and investment company, has specifically targeted speculative turnkey delivery of biological research space as a differentiator. Matthew Powers, Nan Fung's CEO, shares that the current crisis, "has proven that our approach is a more durable solution." Powers has not seen a slow-down in potential tenant inquiries, which further "proves at this time that the model we outlined is very resilient." Above all, Powers believes that NFLSRE's model is key to improving the success rate of his tenants by allowing them to focus on what they do best: working on innovative therapies to improve our collective future, a demand that has become even more imperative in safeguarding global human health.
The COVID-19 pandemic has severely limited the amount of research that can be accomplished due to social and physical distancing requirements in the lab. But heightened awareness of the importance of scientific research portends an explosion of growth in translational research. Development companies whose business models are aligned with turnkey assets may be poised to capture this increased demand for space, offering much-needed support to the healthcare and research communities. We are also seeing an increased volume of work in diagnostics facilities, given the demand COVID-19 has created for both rapid testing and thermal scans. Developers who are willing to include retail diagnostic services in the mixed-use retail component of their portfolios can add an extra component of relevance to their translational facility offering.
"When healthcare providers have a high level of communication with potential partners in development, design and construction," states Carlisle, "they end up with many more options. Creative solutions can emerge that are not commonly taken advantage of in this market." Powers is similarly optimistic, believing that developers like NFLSRE should be "moving forward with conviction to deliver an unmet need in the research marketplace." Translational medicine facilities will be a necessary part of the future success of human health to leverage lessons learned today, so we can better weather the next pandemic. To get there, collaboration between health systems, life science companies, and real estate development partners is a critical path forward.