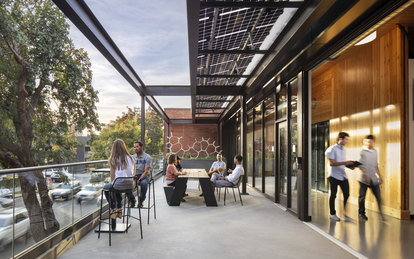 There is much to consider when deciding when and how to invite employees to return to their offices following the COVID-19 pandemic. Though timing and specifics of reintegration plans will vary based upon geography and the unique needs of one's company, organizations must look holistically at how return to work decisions will impact productivity, efficiency, engagement, culture, collaboration, connectivity, and more. They must also consider the range of emotions that employees will be feeling regarding this experience.
What will this new era of work look like at your company? What adjustments will or will not align with your firm's mission, vision, brand, culture, and values?
SmithGroup's Workplace Practice has developed a reintegration framework that will enable those responsible for reopening their offices to explore critical questions and plan effectively. Centered around the employee experience, this framework allows companies to reimagine their workplaces in a holistic way while ensuring employee safety and well-being remain a top priority. Highlights of the step-by-step process include:
DISCOVERY
Every workplace design project starts with an in-depth discovery process to define how best to leverage physical space to enhance employee experience. As companies plan to bring employees back to their offices, similar steps should be taken to ensure the reintegration process is a success. The process should include, at a minimum, convening a re-entry team; deploying a company-wide survey; and establishing a timeline to meet company goals and needs.
PHYSICAL SPACE & TACTICAL PROTOCOLS
Determining safe occupancy levels and understanding what steps, if any, should be taken to modify a company's existing workspace are complex decisions to navigate. This plan walks readers through a wide range of design and planning considerations, including phased re-entry options, flow patterns throughout the office, how to identify risk points within a space, cleaning and maintenance concerns, and more. 
POLICY & PROCESS
Just as important as a physical plan for re-entry, modified guidelines for company policies and operational process must also be considered. The re-entry team and those with specialized expertise should be leveraged as guidelines are revised or newly established. Considerations may include: seating approach, clean desk policies, remote work policies, staffing rotation systems, meeting cadence and etiquette, IT/infrastructure needs, more.
HUMAN & SOCIAL DYNAMICS
If working from home is a viable employment option that also has the potential to reduce an organization's expenses, why have large segments of the population expressed a deep desire to return to their physical workplaces? Most would cite culture, collaboration, personal connectivity, efficiency, productivity, and access to tools, technologies and resources as primary drivers for returning to the office. While human interaction and social dynamics are essential to the success of any organization, leaders must proceed with caution to avoid a premature return to the office and the potential of having to close the workplace again should the virus reignite.
TRANSITION & MANAGING CHANGE
Returning to the office after this very unfamiliar and disruptive time will require additional effort on the part of office leadership to ensure a positive experience for employees. Transparency is critical; making much of the unknown known will provide employees with confidence and trust. Organizations should be prepared to create a detailed communications plan and provide training to help staff understand new guidelines, policies, procedures and protocols. 
Organizations that are able to build in resiliency in their approach to returning to work from this devastating crisis will not only be more successful in the immediate future but will thrive in the long-term.
Interested in learning more about steps that your organization can take to successfully return employees to the office? 
CLICK HERE to access SmithGroup's complete guide to "A Holistic Approach for Returning to the Office After COVID-19."