Tulsa to Host Society's Cage Installation, May 30-June 19, 2021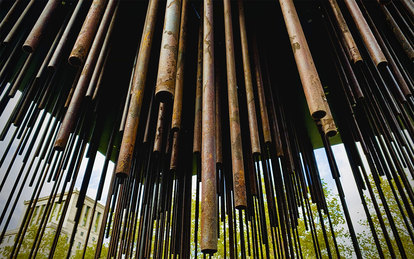 The Society's Cage experiential installation will be exhibited in Tulsa, Oklahoma to coincide with the centennial of the Tulsa Race Massacre. The pavilion will be exhibited on the grounds of the historic Vernon A.M.E. Church at 311 N. Greenwood Avenue. The installation will be open to the public from Sunday, May 30 through Juneteenth on Saturday, June 19, 2021.
"The intent of Society's Cage is to educate about racialized state violence through an immersive experience," says lead designer Dayton Schroeter, a principal at SmithGroup. "The installation complements the commemoration, remembrance and reconciliation in spirit with the centennial of the Massacre, the most egregious and least-recognized instance of racial injustice in our nation's history."
In 1921, two days of mob violence over Memorial Day weekend led to the destruction of more than 35 blocks of the Greenwood District in Tulsa, at the time one of the most prosperous Black communities in the United States and often referred to as "Black Wall Street." Hundreds of Black residents were killed or injured in the violence, and thousands more were displaced.
The centennial projects honoring the Tulsa Race Massacre are intended to educate the nation about the impact of the Massacre, remember its victims and survivors, and foster entrepreneurship and heritage tourism within the Greenwood District. The historic Vernon A.M.E. Church is a fitting location for exhibition of the pavilion, as it is one of the only standing Black-owned structures on Greenwood Avenue from the Black Wall Street era.
Society's Cage debuts in Tulsa in partnership with Tri-City Collective, Inc.; Tulsa Artist Fellowship; Jewish Federation of Tulsa; Vernon A.M.E. Church; Temple Israel (of Tulsa); and Sharna Newman Frank Educational Gallery Philanthropic Fund.
The Society's Cage installation was initiated and led by a team of Black architects in the Washington, DC office of SmithGroup, one of the nation's leading integrated design firms. The design team was moved to create the installation in the aftermath of the murders of Breonna Taylor and George Floyd, in solidarity with the Black Lives Matter movement.
Society's Cage has previously been exhibited in Washington, DC on the National Mall and in Baltimore, Maryland on War Memorial Plaza.
SmithGroup is the lead sponsor for Society's Cage and is partnered with the Architects Foundation to raise funds for their Diversity Advancement scholarship program through the installation, to support historically underrepresented youth to pursue careers in architecture.
For more information about the Society's Cage installation, visit: https://www.smithgroup.com/societys-cage
The Architects Foundation (www.architectsfoundation.org) leads philanthropic efforts to attract, inspire, and invest in a next-generation design community through scholarships and exhibitions.
For more information about SmithGroup, please visit our Company Fact Sheet.