University of Wisconsin - Madison Divine Nine Garden Plaza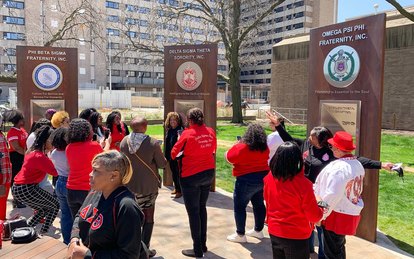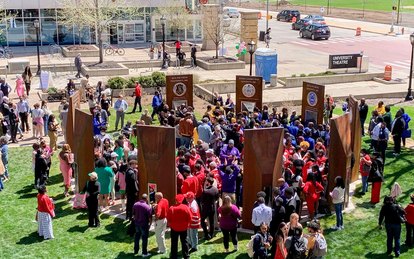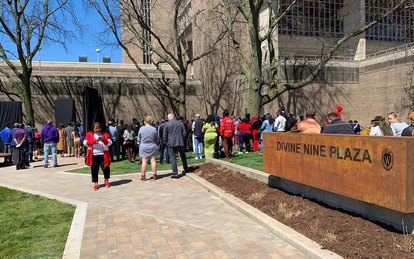 For decades, historically Black fraternities and sororities at the University of Wisconsin-Madison were underrepresented in the spaces and places that comprise the fabric of their campus community. In 2022, the school unveiled a new plaza and interpretative installation celebrating the achievements, traditions and values of the National Pan-Hellenic Council and the nine Black Greek-letter organizations that are foundational to its legacy.
客户
University of Wisconsin-Madison
位置
Madison, Wisconsin
市场/服务
Campus Placemaking, Higher Education, Landscape Architecture
Sited on the University's prominent East Campus Mall, the newly created Divine Nine Garden Plaza is a poignant installation honoring the rich history and impact of Black fraternities, sororities and students within the UW-Madison community.
Drawing inspiration from workshops and listening sessions conducted with student advocacy groups representing a broad range of voices and perspectives, designers set out to create a celebratory outdoor space that could be used by these organizations for an array of gatherings, meetings, events, tours, educational activities, reflection and more.
Set within a campus greenspace, nine monuments – one for each Divine Nine organization – are organized in a circular arrangement within a hardscaped plaza. Each marker includes the crest and names of all charter members for its respective fraternity or sorority. Evoking images of strength and honor, the student-driven project represents characteristics that many NPHC organizations uphold — community, sisterhood, brotherhood, perseverance and a shared identity that is part of a broad and meaningful collegiate experience. It also underscores the importance of these historically Black organizations to UW-Madison through physical representation and acknowledgment.
"The Divine Nine Garden Plaza celebrates all the NPHC organizations in a light they deserve as influential student leaders on campus for decades," Vice chancellor for student affairs Lori Reesor said. "This space will be a visual representation of the community our students have built here, and I am grateful for everyone who stood behind them to make this possible."