Sonora Outpatient Pavilion Breaks Ground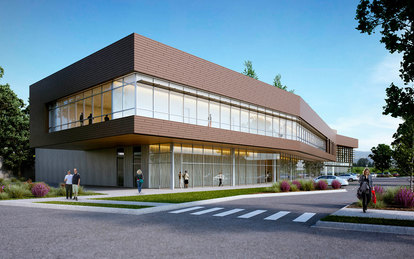 Adventist Health, Sonora Regional Medical Center has broken ground on its new $36 million outpatient pavilion and cancer center. The 64,000-square-foot building is being designed by SmithGroup, one of the nation's largest healthcare architecture, engineering and planning firms.
The new facility will house the Diana J. White Cancer Institute, which will bring advanced cancer care and innovative medical technology to the Sonora community. Currently, community members are forced to travel over 100 miles to receive advanced cancer treatment. By bringing such medical treatment to Sonora, this exceptional design will facilitate exceptional healing.
The facility will also accommodate primary care, rehabilitation, imaging and outpatient services, vacating much needed space at the existing Sonora Regional Medical Center, located approximately a quarter mile away.
"The new outpatient pavilion and cancer center will strike a balance between a building that looks like it belongs in Sonora and one that can take us into the future," said Andrew Jahn, President and CEO, Sonora Regional Medical Center.
SmithGroup's design is inspired by Sonora's rural community and its surroundings.
"Sonora's magical, mountainous surroundings extend into the horizon in a series of natural layers," says SmithGroup Design Principal Sam D'Amico, AIA, LEED AP BD+C. 
"The pavilion is designed as an extension of the earth, mirroring the layered topography and harmoniously placed in the hillside through a series of architectural forms and layers. Instilling a sense of spiritual uplift and a connection with nature, the design is a true reflection of Sonora Regional Medical Center's mission and values," D'Amico adds.
Through the design process, the building has evolved into a community amenity as well as a medical facility. Design features include a rooftop terrace that will promote outdoor fitness and provide a venue for fundraising and community events.
The local community has made generous donations to advance the project. Groveland resident George White donated $3 million to endow and name the Diana J. White Cancer Institute, a tribute to his late wife, Diana.
Targeted completion of the project is winter 2016 or early 2017. The firm constructing the project is Quiring/Cal Gold, an alliance of Quiring General LLC. and California Gold Development Corporation.  
For more information about SmithGroup, please visit our Company Fact Sheet.