Smart move, clicking on this link. You're already setting yourself apart from the pack, showing us that you're proactive, engaged, curious and eager to kick your career into gear. Those are precisely the kind of qualities we look for in an intern.
That matters, because while other internships may let you dip a toe into the real world (or worse, leave you wallowing around tending to mindless tasks), SmithGroup interns dive right into the big pool. You'll be working on a team tackling actual client projects—gaining real-world experience, exposure to different aspects of the profession, invaluable contacts, and maybe even a lifelong mentor or two.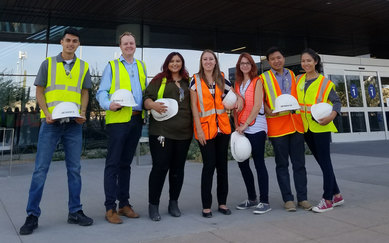 As an intern you'll join the team on site visits. Attend "lunch and learns" with the staff. Participate in team-building exercises. And yes, even enjoy employee perks, office social activities and certain Fridays off. 
We expect a lot from you: professional behavior, a solid work ethic, an eagerness to share your ideas and learn from the ideas of others. But we don't expect you to do it alone. We want this to go swimmingly well, so our internship program is designed to help you succeed. You'll get all the support you need, with a knowledgeable mentor to provide guidance throughout your internship. 
So keep your grades up, keep an eye out for us at your local career fair, and check for our current internship openings. We can't wait to meet you!