When you wake each day, what stirs your soul? Is it a desire to heal patients? Inspire learning? Advance research and discovery? Build business? Are you passionate about protecting our resources? Or creating spaces for respite and recreation?
At SmithGroup, we embrace opportunities to work alongside clients, partners, and colleagues who dare to push boundaries and pursue bold "what if" dreams. And we've discovered how to bottle passion and deliver success. The secret? People like you. Creating partnerships with others who share our goals, values, and visions for creating a better future has yielded outstanding results. Our trophy shelf is packed with proof.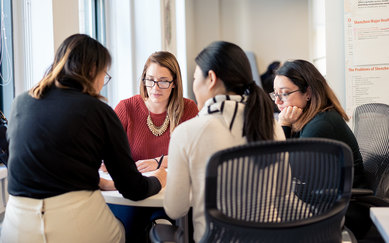 SNAPSHOT OF OUR FIRM
+ We are spread across 19 offices but we truly operate as one firm
+ We understand what makes each region unique and have people who "get it", but we also have the ability to pull experienced resources from across our network of 1,300 people to leverage the right expertise for a specific project
+ Our clients are global leaders in a wide range of industries such as in health, higher education and science and technology
OUR HISTORY
What a legacy we have in our name. Sheldon Smith, born in 1818 and enamored with architecture, sensed opportunity in the newly formed states and growing territories. Smith migrated from Ohio to Detroit, a Great Lakes port city that bustled with industry and new wealth, to pursue his vocation.
We figured out early the value of multiple disciplines, adding engineering services to architecture as soon as the steel building frame was invented. We delved into specialty market sectors early, leading to today's deep well of expertise in fields as diverse and complex as academic medical centers and marina design. And we have always been at the leading edge of change: We designed one of Henry Ford's first manufacturing plants as well as NASA's Lunar Sample Receiving Laboratory.
Today, the SmithGroup name reflects our emergence from several talented regional practices to a united, award-winning firm practicing around the globe. And just as we still carry the Smith name, every member of our team carries a bit of that Sheldon Smith spirit—an upstart eager to strike out and create inspiring places.