Many chapters in America's history book were written right here in Boston, from the narrow, cobblestone streets where Paul Revere began his midnight ride to the busy harbor where those upstart colonists famously dumped that load of British tea. From our 18th-floor offices in the city's Central Business District, we look out over historic Boston harbor, Post Office Square, Downtown Crossing and the Financial District.
We appreciate Boston's rich roots, and are pleased to be an integral part of today's dynamic city. Our Boston-based Health, Higher Education, Workplace and Science & Technology professionals have longstanding relationships with clients that include Brigham and Women's Hospital, Newton-Wellesley Hospital, Boston Children's Hospital, Dana-Farber Cancer Institute, Boston University, and other highly regarded institutions. We're currently working with Boston Medical Center on the largest integrated project delivery (IPD) project in New England. Our Boston office provides architecture, planning, MEP engineering, interior design and lighting design services.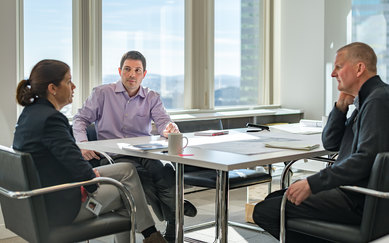 Our office culture is guided by one key rule: People matter. We seek to be a place that invites people to see others as individuals with their own hopes, dreams and aspirations. We take SmithGroup's collaborative style to heart. We thrive on working together as a team, learning and designing in support of a common purpose—serving our clients and optimizing human potential. We play together, too, often in support of local charitable organizations. For more than a decade, we've participated in the annual Pan Mass Challenge, a two-day, 192-mile bike ride in support of the Dana Farber Cancer Institute.