Health, Wellbeing & Nature in the Post-Pandemic Office
The COVID-19 pandemic has brought forth a renewed awareness and appreciation for the positive and impactful role that outdoors and physical activity play in improving health and enhancing wellbeing. In fact, research supports the belief that connections to nature and outdoor spaces can yield tremendous health benefits, including reduced stress, increased cognitive function and more.
As some segments of employees are hesitant at the prospect of returning to the office, organizations across industries are assessing a range of policy- and amenity-based opportunities to address an array of concerns impacting the post-pandemic office. The savviest of organizations are looking beyond their physical offices and planning for options that address needs of remote workers, too.
Though the future of [flexible] work continues to evolve, clients that have implemented workplace solutions which offer employees flexibility in choice and increased access to nature have reported positive outcomes among employees.
A few of the design features that have increased access to the outdoors and contributed to improved wellbeing, health, safety and responsible social distancing include:
Gardens (indoor & outdoor)
Walking paths (indoor & outdoor)
Operable windows & window walls
Terraces & patios
Rooftop decks
Select clients reporting positive outcomes linked to these and other nature-based amenities are showcased below.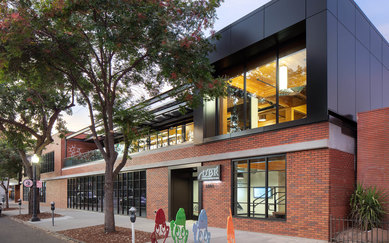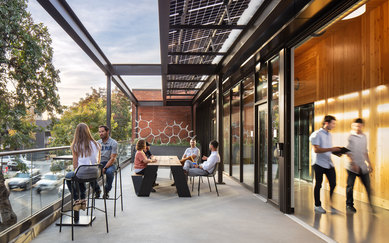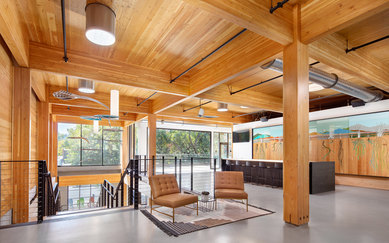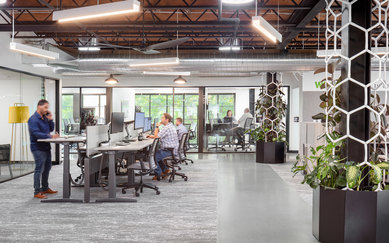 DPR Construction – Sacramento Office
SmithGroup and DPR worked in partnership to transform an aging 28,833-sf building—once a vehicle testing facility—into a model of wellness and efficiency in Sacramento's midtown region. With employee wellbeing and environmental considerations as top design priorities, the team incorporated the following:
- Biophilic design elements: From exposed woodgrain panels, to sculptural "grow columns," a seed wall and plantings, these soothing elements bring employees closer to nature even while indoors.
- Access to the outdoors: Sacramento's tree canopy covers nearly a quarter of its urban landscape. The addition of a rooftop terrace creates a parklike space nestled in the treetops. 
- Operable windows & sliding glass walls: These features enhance ventilation and indoor air quality while also allowing employees to take advantage of Sacramento's Delta Breeze. When fully opened, they also extend the benefits of the office's outdoor terrace deep into the workspace.
- The facility is targeting WELL Building certification.
Click here to learn more.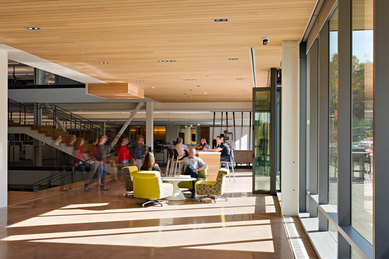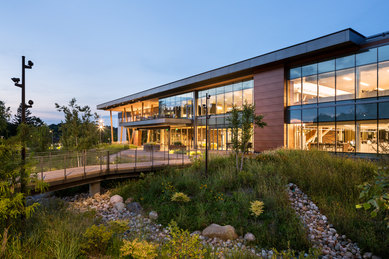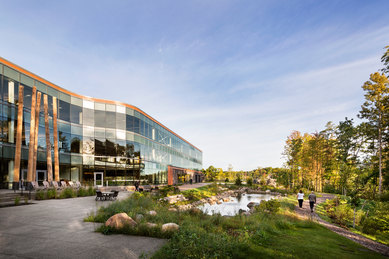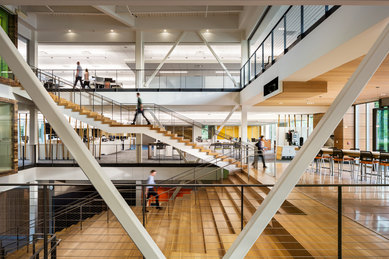 Lake Trust Credit Union – Headquarters Office
This 17-acre site in Brighton, Michigan offers an exceptional blend of functionality and connection to the outdoors. Key health and wellbeing related features that help to decrease stress and promote healthier lifestyles include the following:
- Landscaped outdoor patios
- Outdoor balconies & terraces
- Views of wooded site & pond
- Operable window walls
- Walking paths
Click here to learn more.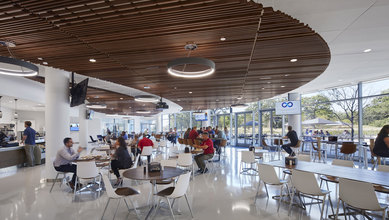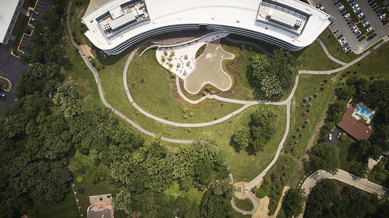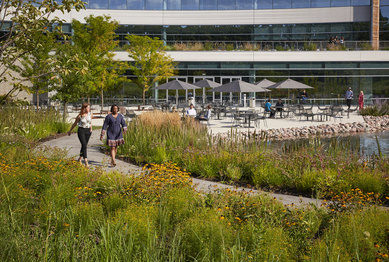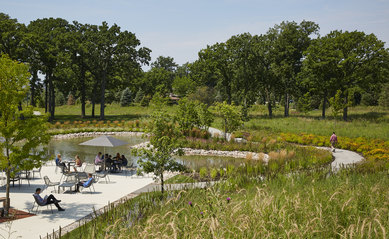 The Chamberlain Group – Headquarters Office
This SmithGroup-designed workplace and 20-acre campus in Oak Brook, Illinois is nestled within a robust and restorative parklike site that serves as a habitat for collaboration and employee wellness. Key health and wellbeing related features that encourage physical activity and draw employees outdoors include the following:
- Shaded lakeside terrace with reconfigurable furniture
- Pockets of outdoor gathering spaces with reconfigurable furniture
- Trail networks
- Wildflower gardens
- Community access to the site's walking paths
Click here to learn more.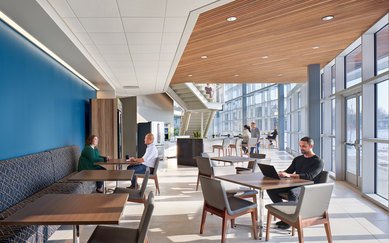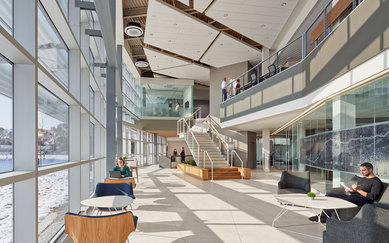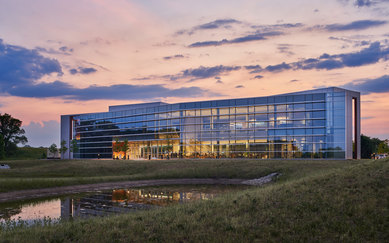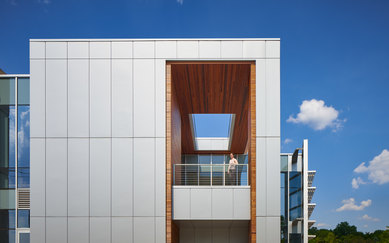 Indiana Toll Road Administration & Operations Building
Employees working out of the Indiana Toll Road Administration & Operations Building stand at-the-ready around the clock seven days a week to handle maintenance, emergency dispatch, weather preparedness and toll payment needs of travelers along Indiana's Interstate 80/90. This work can be stressful and intense, but design of this office building prioritizes the safety and wellbeing of employees. Features include the following: 
- Enhanced access to natural daylight
- Outdoor patio & terraces
- Walking paths
- Fitness center
Click here to learn more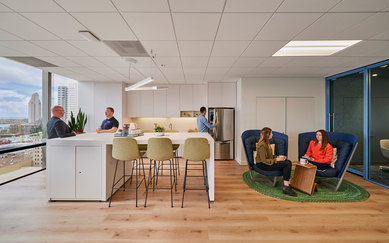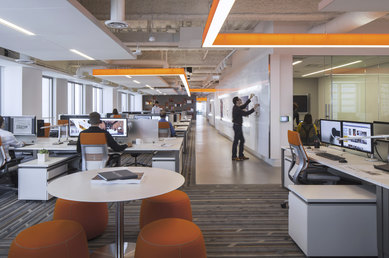 SmithGroup – Multiple Urban Office Locations Across the U.S.
Certainly, many organizations with offices in urban centers have limited access to nature and outdoor spaces. However, research and advancements in technology have inspired designers to create new and innovative solutions to mimic natural environments within indoor office spaces. Following are just a few examples that have proven to be viable and effective alternatives to help enhance wellbeing in urban office spaces:
- Enhanced access to natural daylight
- Lighting design solutions that mimic circadian rhythms
- Biophilic design elements
- Plantings, greenery
- Enhanced ventilation systems
SmithGroup has incorporated many of these features within its urban-centered locations in Boston, Chicago, Detroit, Los Angeles and San Francisco. Pre- and post-occupancy data collected from employees at these locations confirms that these design elements have helped to elevate mood and increase productivity and cognitive function while working at the office. 
If this conversation resonates with you, please contact amy.warden [at] smithgroup.com (Amy Warden), Workplace Corporate Practice Manager, to further discuss how SmithGroup's office design experts can help you assess opportunities to address health, wellness and access to nature in your post-pandemic workplace.