Confidential International Tech Headquarters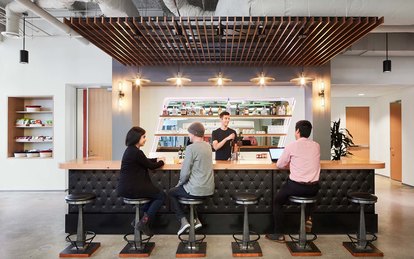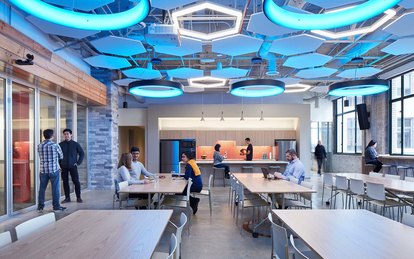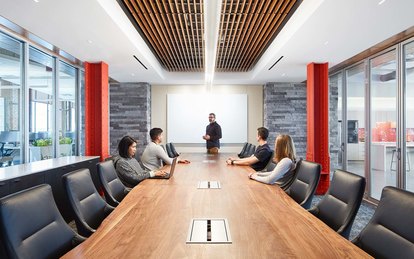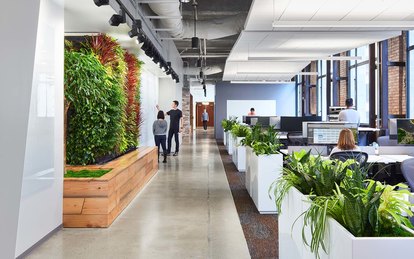 East meets West and 21st-century finance meets traditional in this highly secure and sustainable US headquarters for a cryptocurrency trading platform.
Location
San Francisco, California
Markets/Services
Corporate Headquarters & Campuses, Corporate Interiors, Interiors, Lighting Design, Office, Workplace
As once-enigmatic crypto products become more mainstream, an international cryptocurrency exchange was eager to expand its presence in the US and draw from the deep pool of tech talent in the Bay Area. It sought to establish a workplace with noteworthy amenities and sustainability features that would help with its recruitment and retention efforts, and that could accommodate an array of safety and security features.
Its new headquarters in San Francisco's Financial District gives a nod to traditional banking, juxtaposed with a thoroughly modern, amenity-rich workplace that incorporates biophilic elements and feng shui principles. Beyond a classic formal entry, the space becomes more fluid, open and filled with natural light, occupying an entire 21,000-square-foot floor. Workstation neighborhoods are located around the perimeter, equitable shared spaces with operable windows, living walls of greenery, planter boxes and locally sourced reclaimed wood accents that provide visual connections to nature.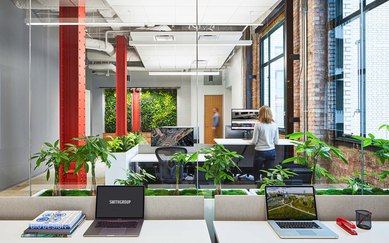 The center of the floorplate is the cultural heart of the office, a large multi-purpose area that functions as an event space, lunchroom, presentation center and entertainment hub. It features a full bar, poker/game room, exercise/yoga studio and exterior rooftop terrace with herb garden. Working with a feng shui master and East-West integrator, feng shui practices were incorporated into the programming and planning effort.
Underscoring the firm's commitment to the health and well-being of its employees, the workplace will be one of the first in the country to obtain LEED Platinum and WELL Platinum certification. The space also integrates a number of advanced security features, including two-factor identification, cloaking film on exterior windows and bullet-resistant safe rooms. Crafted to such unique and exacting standards, this specialized work environment gives the client a distinct advantage in a supremely competitive marketplace.