Our commitment to innovation is closely tied to two of our core values: passion and curiosity. Our minds are always open as we explore, test and learn to innovate and solve the emerging challenges of our clients and our world.
Our Technology In Practice (TIP) group, led by Derek White, is dedicated to exploring new and different ways to apply technology to design.  This group, comprised of architects, engineers, BIM technologists, application developers, data scientists, sociologists and information analysts, brings together a wide variety of skillsets and interests to improve project workflows, research new tools, foster collaboration and the transfer of knowledge, and cultivate data-enhanced decision making by our teams and clients. Each team within TIP uses a different approach to solve complex, meaningful problems for our clients.
Under the leadership of our Director of Research, Elizabeth Vandermark, the Research and Data Solutions Group partners with staff across SmithGroup to develop data-rich, digital solutions for our most pressing design challenges. Their work includes analyzing and interpreting client data to aid our design process and implementing various methods to analyze space occupancy and utilization to help clients fully understand how their space is being used.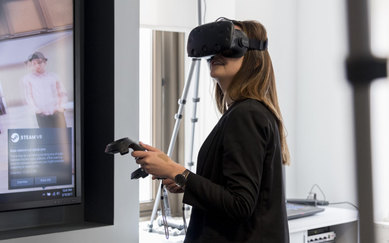 And our definition of innovation is not limited to technology. Over the past decade SmithGroup has been awarded five patents that are a natural output of our never-ending curiosity.