Our ability to Design a Better Future has no boundaries. The integration of great minds throughout every level of our firm allows us to offer a comprehensive interdisciplinary approach with dynamic perspectives. Our internal diversity, as well as common experiences in design and life have fostered and cultivated decades of insurmountable depth in our ability to empathize with external needs in those we serve. From Anthropologists to Registered Nurse practitioners, our titles span beyond Architect to serve the complexities of industries from the inside out.
Every project in China is led by a team of international experts, with trust at the center of our client relationships. A collaborative sharing of ideas and vision has fostered the master planning and design of innovation districts that will shape the future of industries and economies. Wanxiang Innova City is one example of our cross-continent integration of insights merging to deliver the 1,000 hectare hub. Having been awarded both the master planning and design work, this project is the culmination of global collaboration. It reflects a combination of scientific research and industrial production for advanced technologies that have led to this cultural hub along the south bank of the Qiantang River in Hangzhou.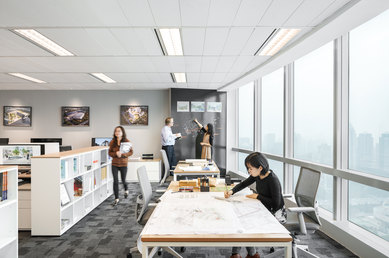 Our Shanghai office is conveniently located in the heart of the city, just one block from historic Nanjing Road. Views from the 41st floor of Raffles Centre overlooks the dynamic People's Park, and this is the exact location we call home. Nearby is the historic Bund and the iconic skyline of Pudong.
The frantic pace of the morning commute quickly subsides as joyful personalities gather in our continuously growing space. A true highlight of our entrepreneurial spirit is seen within the dedicated and energetic team. Each person contributes a unique set of skills and experiences, adding to the immense diversity and depth we offer in our design solutions. Opportunity for creative exploration, integration of holistic urban principles, implementation of human-centered design, and the promotion of sustainability, are the drivers behind our presence in China. Sharing an international perspective allows for enriched collaboration across our firm. 
Although every office boasts their main attractions, nothing compares to the food scene in Shanghai! There are more options here than most places in the world. We pride ourselves on our appetites for great design…and in great food! Shanghai makes for excellent culinary adventures—from casual lunches to dinners out when hosting our international colleagues. Celebrating everything from Earth day to Chinese New Year, we embrace all cultures in our SmithGroup family.