Established in the 1950s, our Washington, D.C. location has a long history in the District of Columbia. In fact, it's left quite a mark on this city. SmithGroup was instrumental in the redevelopment of the downtown core with projects like the Washington Metropolitan Transit Authority headquarters building in Gallery Place; More recently, significant projects in the greater Washington metro region include the National Museum of African American History and Culture, a dual hotel at Wharf DC, MGM National Harbor and American University Washington College of Law. 
Our diverse Washington, D.C. staff work together closely to discover new, unique and outstanding design solutions to the challenges our clients face. The D.C. team includes some of the nation's foremost experts on museum and collections environments; design for urban resilience and anti-terror strategies; biomimetic design; data-driven parametric analysis; and design of learning environments for professional schools.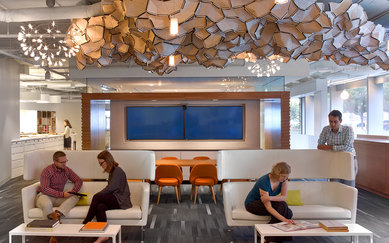 Despite D.C.'s reputation for being a stuffy town of pundits and strategists, our office prides itself on being collegial, interactive and open to new ideas. There are no private offices here; everyone on our staff sits in "we" spaces that accommodate varying work styles, encourage teamwork and enable more spontaneous interactions among colleagues.