A city of movers and shakers throughout its history—from its beginnings as a railroad hub to its leading role in the Civil Rights Movement—Atlanta buzzes with a pulse all its own. Today the city is not only a cultural and creative mecca, home to artists, actors, musicians and makers across the creative spectrum, it's also a stronghold for multinational businesses, numerous heavy hitters in the financial industry and an enclave for entrepreneurialism. Atlanta is a place to make your mark and the perfect post for expanding our mission to design a better future into the southeast. 
Our Midtown Atlanta studio is ideally situated between the Georgia Tech campus and the vibrant greenspace of Piedmont Park. Named to American Planning Association's list of "Great Places in America," Midtown offers a burgeoning live, play, work atmosphere that is ideal inspiration for a flourishing integrated design office of architects and engineers.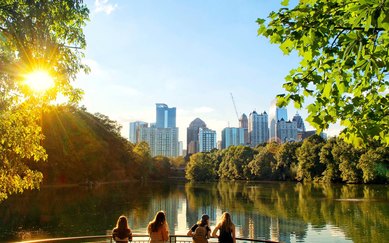 While SmithGroup established its first office in Atlanta in 2022, our roots in Georgia and the greater southeast region date back many decades. In 1980, the firm designed an expansion of the Hartsfield-Jackson Airport, dubbed the world's busiest airport. Since then, our planners and designers have continued to serve major health systems and colleges and universities in the region. Today our Atlanta office is home to specialists in Higher Education and Healthcare strategy, planning and design.  
Recent work in the region includes a new downtown law school for Georgia State University, an expansion of Emory University Hospital, a new patient tower at Piedmont Athens Regional Medical Center, and a dynamic new engineering building on the Georgia Southern University campus.