Arizona State University College Avenue Streetscape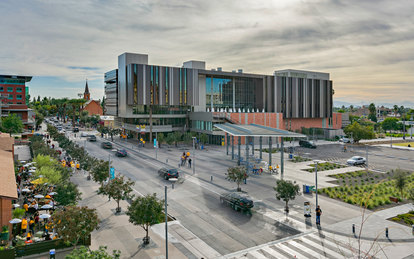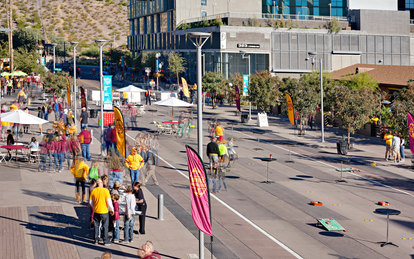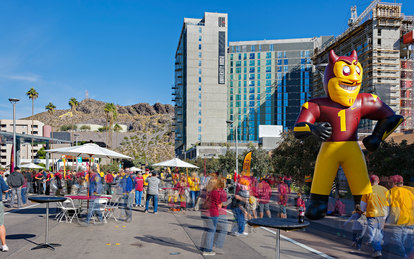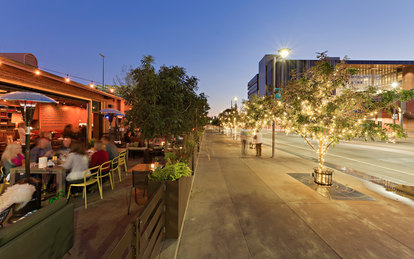 The College Avenue Streetscape project focused on a single—and perhaps the most prominent—city block at Arizona State University (ASU). College Avenue has long served as a primary transportation connector, linking downtown Tempe with the sports and academic districts of ASU. As the city and campus grew, the street was widened to accommodate more traffic, and was required to support an increasing variety of transportation modes, including a new light rail system and Transit Center. As a result, College Avenue suffered from growing conflicts between motorists, bicyclists, pedestrians, and transit, and was flanked by a system of narrow and underutilized asphalt walkways.
Client
Arizona State University
Location
Tempe, Arizona
Markets/Services
Active Transportation & Mobility, Campus Placemaking, Higher Education, Landscape Architecture, Mobility, Parks & Open Spaces, Public Spaces, Urban Design, Urban Environments, Urban Parks & Public Spaces
Size
1 block
Conceived through a unique public–private partnership between ASU and the City of Tempe, the vision for this project was to transform this section of College Avenue into a safer and more efficient multimodal transportation corridor that also provided flexible public space. The resulting design provides improved safety and walkability, along with an enhanced public realm to support adjacent commercial uses and community events.
Incorporating a range of complete-street design strategies, the project eliminates unused vehicular pavement by narrowing travel lanes to create dedicated bike lanes and shaded pedestrian walkways. Curb and gutter were eliminated to make the street a flexible urban plaza able to support game-day programming and special events. The design features unified, integral concrete paving for the street, sidewalks, and plaza spaces in front of adjacent building facades; the result is a right-of-way that transitions seamlessly into the outdoor spaces for adjacent restaurants and retail businesses, as well as ASU's College Avenue Commons. The use of bollards, lighting, integral concrete paving and street trees creates needed separation between bicyclists, pedestrians and motorists, significantly improving overall circulation and safety.
SmithGroup's design helped transform College Avenue into a true gateway to the City of Tempe and ASU, creating an attractive, dynamic, and people-focused complete-street environment that will serve the community and university for decades to come.